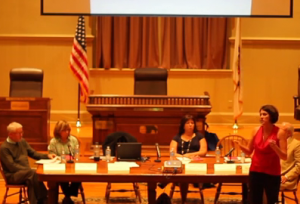 An ad hoc group will hold a second panel discussion of the NECAP graduation requirement and high stakes testing on Wednesday at the Providence Public Safety Auditorium.
"We feel there are a number of issues with the NECAP and the current graduation policy that are of great concern to many people," said organizer Bob Houghtaling in a press release. "Members of the panel will outline some of these concerns."
Houghtaling, a longtime friend and frequent contributor to this blog (read his excellent poem on standardized tests here), is the municipal drug counselor in East Greenwich and works with at-risk teens. Jean Ann Guliano, a former East Greenwich School Committee member and Moderate Party candidate for Lt. Governor in 2010, is co-organizing the event.
Panelists will include Jim Vincent, executive director of the Providence NAACP; Don Anderson, executive minister of the Rhode Island Council of Churches; Hector Perea, of the Providence Student Union, Rick Richards, former accountability specialist with RIDE; and Suzanne Da Silva, director of the RI Teachers of English Language Learners.
Houghtaling and Guliano organized a previous NECAP public discussion at Warwick City Hall. Andrea Castaneda, chief of Accelerating School Performance with RIDE, attended that forum but the Department of Education has yet to confirm someone will be present Wednesday, as well.