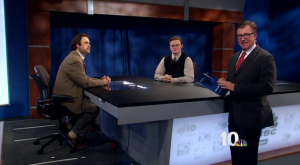 There's been no shortage of cursory – and even congratulatory – reporting on a new report from a right wing think tank that details how to shrink government to make way for more tax cuts. But when I debated Justin Katz, one of its authors, about its merits, it turns out there is much less substance to the report than it would appear.
Because it uses a samurai sword to do the work of a scalpel, it makes at least a few errors as well as makes some incorrect claims that were repeated by the media. Watch here and then I explain a few examples below:
News, Weather and Classifieds for Southern New England
One example we discussed on this weekend's NBC 10 Wingmen segment was the idea that the state would save money if it eliminated a golf course at Goddard State Park. While I don't love the idea that the state operates a golf course, the report wasn't about public spending items we love and/or hate, it was about ways to save the "taxpayer" money. I will bet both Katz and Mike Stenhouse that eliminating the golf course at Goddard Park will actually increase the cost of operating that state park, not reduce it. (I don't know this for certain, but neither did Katz – and he co-wrote a report saying it would save money to eliminate it.)
I happen to live near Goddard Park, so I know it well, but I suspect the report is littered with such fallacies that I don't happen to know intimately. True story: the state used to charge admission to Goddard Park until we were reminded that the Goddard family gave it to us with the stipulation that it be open and available for free. Perhaps, by extension, it should be free for the people of Rhode Island to golf there. But it's not free, and making it free or eliminating this source of revenue will not save the state money.
Another fallacy with this report is that it doesn't cut social services. It does. The report itself details a $2,500 legislative grant to the Johnnycake Center, a food pantry in South Kingstown that provides nutritious meals to poor children when school isn't in session. While legislative grants are by no means perfect, by the report's own admission some are used to fund social services. Either the report cuts the social safety net or the Johnnycake Center isn't part of the social safety net.
And this is just one such example of an agency or organization that works with people in poverty was singled out in the report. Another is the John Hope Settlement House. The reality is small government budget hawks have pushed some "essential" or "social service" public spending outside of the traditional budgeting process. Good, bad or indifferent it simply isn't true to say this report doesn't cut social services.
Other ideas in the report are simply economically foolish, like ending the full day kindergarten program or selling off the state's nuclear reactor to a private entity.
It's at least worth noting that such reports aren't really about public policy. Its authors know well that many of its proposals are either politically untenable, wrong or just silly. But, in the same way this report cites Ken Block's widely discredited report on SNAP fraud in Rhode Island, the real hope is that it will be used as a talking point in political debate. To that end, the small government activists who authored it have done their job well. But the political reporters who repeated its errors and/or gave a less than accurate account of its findings did not do theirs very well.