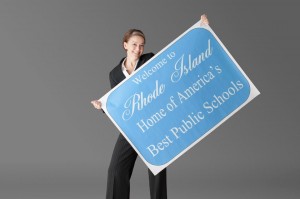 There's something – if not good, at the very least honest – in getting to see the politics of public education play out publicly this week. As educators, activists and parents across the state are deriding Deborah Gist, the business community has her back.
The so-often-called education reform movement – what progressives know as education deform, or corporate reform – has always been primarily supported by the upper crust and the fiscally conservative. Economists call it a market-based approach to public education reform; of course chambers of commerce, right wing think tanks and tax-hating, small-government conservatives support it.
It is not hyperbole to suggest that that Gist is implementing the kind of reform ALEC would like to see here. In fact, she has some loose connections to ALEC. She is, after all, one of Don Carcieri's toxic gifts to Rhode Island's public sector.
But there's another voice – or, more accurately, voices – that are making themselves heard here in the Ocean State.
According to pollster Joe Fleming, 85 percent of teachers think Gist should be replaced. Getting 9 of ten people to agree on just about anything is noteworthy, when it's who should be their boss it is damning. I've likened Gist to former Red Sox manager Bobby Valentine: she might know the game real well, but she just can't seem to get this group of players to perform for her.
What's even more significant is that the education community isn't simply voicing its concerns anonymously or through its unions. They are also quite literally standing up in public and speaking out against their employer. This is amazingly courageous, I think.
As long as we are keeping score, it's well worth noting that it's not simply educators versus business leaders when it comes to how (not if) we reform education in the Ocean State. The ACLU – a staunch supporter of the Constitution, not union members or working class people (see Steve Ahquist's story on Citizen United from yesterday) – has grave civil liberty concerns about her testing policies. The Autism Project, the Wiley Center, the Disability Law Center and the NAACP, among many others, all have issues too.
Linda Borg had a pretty telling passage in her very well-written story stripped across the top of today's Providence Journal:
By almost every indication, it would seem that Gist has profoundly alienated her constituents: teachers, students and parents.

But Gist has apparently not lost the support of the people crucial to her re-appointment: Governor Chafee and the chairwoman of the new Board of Education.
We shall see soon enough.
With Gist, it's public sector enemies against the rest of RI

,