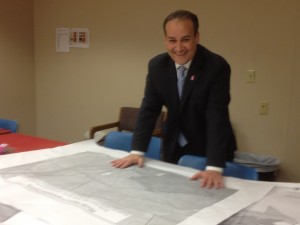 The Democratic primary between Congressman David Cicilline and challenger Anthony Gemma will likely be decided by Providence voters and progressives. As such, it should come as no surprise that Gemma is claiming the mantle of being the more liberal candidate in the contest.
"I'm every bit as progressive and as liberal as David Cicilline," Gemma told me on Friday. "If progressives would look under the hood, they would see I'm their guy."
He said he supports the DREAM Act, marriage equality and even decriminalization for small amounts of marijuana. He says he's personally opposed to abortion, but promises to never vote against a women's right to choose. On tax policy he talks like a progressive, calling the GOP House budget "draconian" and saying he the supports the Buffett Rule, rolling back Bush era tax cuts and even keeping in place estate taxes, though all in the name of lowering the deficit rather than investing in society for its own sake.
But Gemma, a businessman who grew his family plumbing empire into a multi-million dollar a year business and also ran a marketing and communications firm, can be hard to believe at times.
He's also promised to create 10,000 jobs for Rhode Island in five years by bringing together public and private sector leaders to build upon a business plan he drafted for the 2010 campaign and is retooling for this one – it's long on platitudes and short on policy proposals. Almost no one thinks such a lofty goal is a realistic campaign promise coming from someone who would be a rookie congressman, but Gemma confidently asserts he can use his team-building skills to get it done.
He's never held public office, so he's got no track record. And furthermore, he only registered as a Democrat a few short months before announcing his candidacy in 2010, and didn't vote in the 2008 primary. He once donated to the campaign of conservative Republican Don Carcieri.
"I gave him a donation because I was running a business and he was definitely the pro-business candidate," he said of Carcieri, though he said he didn't vote for him and has never voted for a Republican.
Gemma said he supports organized labor "when unions support Rhode Island," but again, his track record is at best, tarnished. Gem Plumbing was cited for 32 labor violations, which was "later reduced to six over the objection of the chief inspector," according to the Associated Press, for hiring non-union plumbers when he was president of the company.
"I don't recall exactly what happened because it was such a long time ago," he said. "Our company was growing so fast at the time we my have made some mistakes along the way."
Even his social networking success is suspect, a case RI Future first made in this piece: Gemma's Suspicious Facebook Followers. He's got more than 900,000 followers on Twitter and more than 100,000 friends on Facebook. But ask him how he amassed such a following, and he's not talking.
"Strategically, there are ways in which to deal with social networking that I would like to write a book about," he said. But added, "I choose not to talk about strategy during the campaign."
He did say that it's "certainly possible" that some of his Facebook and Twitter followers are not real people but said he has "never done the research to know how many are real and how many are fake." When I asked if he paid for automated follows and Facebook friends he said, "Again, I'm not going to about strategy."
So we'll have to wait for the book to find out how he got more than 40,000 Facebook likes in one day, or why he has so many followers from Germany, Spain, Indonesia, and Dubai.
It's not unlike how he invited reporters to a Sunday evening availability then declined to answer questions from them. Gemma seems to enjoy controlling the message, and one has to wonder if he's doing that with his new-found fervor for progressive policy positions as well.
With Little Proof, Gemma Claims Progressive Mantle

,