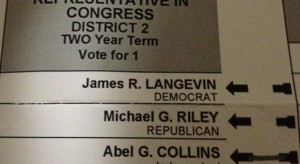 Depending on the results of a new Brown University poll expected next week, WJAR News Director says it's likely congressional candidate Abel Collins will be invited to debate the other two candidates for the the second congressional district seat.
"I suspect he will pass our criteria and be invited to our debate," said WJAR Channel 10 News Director Chris Lanni. He said the criteria includes garnering at least 10 percent support in polls.
Brown University has a poll coming out next week, and Lanni said he expects Collins will meet the mark. In a WPRI poll released earlier this week, Collins 9.2 percent of respondents said they plan to vote for Collins. The poll has a 6.2 percent margin of error. Lanni said margin of error will be factored in with regard to WJAR's analysis of the Brown poll.
"We are very transparent about our rules for being included in debates," Lanni said, noting that the criteria was shared with all the campaigns. WPRI, on the other hand, declined to comment on why Collins was not invited to their debate.
Below is WJAR's criteria for being included in congressional debates:
The candidate must meet all legal and Constitutional requirements for the office he/she seeks.

The office of the Secretary of State must determine the candidate is qualified for placement on the next ballot.

The candidate must be a member of a political party recognized by the state of Rhode Island or an Independent candidate who shows evidence of a credible candidacy.  Candidates who lose in the primary election cannot be included in a formal debate before the general election.

Evidence of a credible candidacy must include demonstrated fundraising ability, a structured campaign, and at least 10% support (including the full benefit of the margin of error) among all registered voters who are likely to vote, in the final poll published by Rhode Island College or Brown University, at least three weeks before the debate.  NBC 10 will not consider any other polls, for inclusion in formal debates.

Formal debates are special programs produced by NBC 10, usually involving a moderator and structured format.  Candidates are invited in writing and the format is provided to them before the debate.  Specific questions will not be provided to candidates prior to the debate.

The candidate must agree to abide by all rules concerning the format and conduct of the debate.

NBC 10 and RIC may cancel a debate in their sole journalistic discretion.

All decisions concerning this debate, including but not limited to candidate qualifications, candidate invitations and the interpretation and application of these rules, are within the sole discretion of NBC 10 and RIC and shall be final.

Candidates who would not meet the criteria for formal debates may be included in informal candidate forums on programs such as "10 News Conference" and "Political Roundtable."
Congressman Jim Langevin said he thinks Collins should participate in debates. Republican candidate Mike Riley declined to comment.
WJAR: Collins Can Debate Depending on Poll Results

,