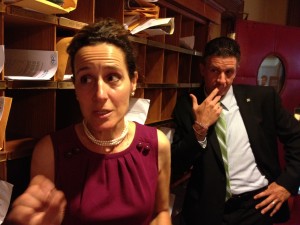 With the legislative session coming to a close, it seems that Woonsocket will not get permission from the General Assembly to assess the supplemental tax bill that local and state officials say is necessary to keep the financially struggling city out of receivership.
UPDATE: House Speaker Gordon Fox just said the House may vote on the supplemental tax with or without the support of the Woonsocket delegation. When I asked him, he said, "I'm not sure yet."
In a meeting between Rosemary Booth Gallogly, the state director of revenue, and the Woonsocket delegation to the House of Representatives that ended at midnight last night, the delegation said it would only support the supplemental tax if the state agreed to a list of demands in exchange for their support. House leadership has said it would not move on the bill without the support of the delegation.
Today, Booth Gallogly said the state couldn't agree to their demands that included: a single-digit supplemental tax that would not be included in next year's tax allocation, suspension of a sewer treatment plant construction project, more state education aid and that the mayor and council be removed from the budget commission.
"What they are asking isn't really acceptable," Booth Gallogly said, noting that state law requires elected officials to be on the budget commission and there are federal requirements for the sewage treatment plant project. "I still hope the General Assembly will consider approval of the supplemental tax."
In fact, she said some of the requests made by the delegation were beyond the state's control to grant at this point in the legislative session. When I asked her if the delegation was negotiating in good faith, here's what she said:
Indeed, it seems they weren't. After learning – from reporters – that the governor's office would not agree to their terms, they amended their offer and said they would support the supplemental tax if the state agreed to stop the sewage treatment plant project and keep the tax under double digits. Prior to that, both said it would be irresponsible to support the supplemental tax if all five demands were not met.
Chair of the state appointed budget commission said earlier today that the city might have to employ a receiver if the supplemental tax is not passed.
"If there is no supplemental tax increase you have to wonder if there is anything we can do at all," he said. "At that point, a receiver would have a lot more authority."
On May 22, both Baldelli-Hunt and Brien said they preferred a receiver to a budget commission.
"A receiver has the leverage to make the adjustments that need to be made," Baldelli-Hunt said after addressing the House Finance Committee about the supplemental tax increase. "I don't want a supplemental tax bill to stand in the way of getting a solid plan in place."
Brien added, "I think a receiver is ultimately what we need to do."
On the same day, Baldelli-Hunt said her position on the city's finances is unrelated to speculation that she would like to run for mayor, saying, "This has nothing to do with politics."