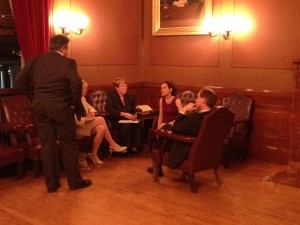 After a marathon 12-hour meeting on the last night of the legislative session, during which the Woonsocket delegation almost continually met with House leadership and representatives of the governor's office, the General Assembly chose not to move on a supplemental tax bill that was widely expected – or at least hoped – would have saved the struggling city from going into receivership.
At one part during the long night, Rep. Jon Brien brought to Reps. Lisa Baldelli-Hunt and Bob Phillips a deal that would have imposed a 8.5 percent tax increase and would have delayed the construction of a sewage treatment plant in town, Brien said, but because it would have added the tax increase to next year's base, the delegation didn't support it as a group.
"I was negotiating right up until the 13th hour," Rep. Jon Brien said as the session came to a close at 3:30 a.m. "In the end they decided nothing was better than something."
The governor's office disagreed. In a statement delivered to reporters just after Brien's statements, Rosemary Booth Gallogly, said, "Representatives Baldelli-Hunt, Brien and Phillips have done their city and their constituents no favors by failing to agree to what is necessary to begin to take steps to truly address the significant challenges facing Woonsocket."
She said the legislators was making demands that were beyond the scope of the governor's office at this point in the session – "a fact they were well aware of."
Earlier in the evening, the delegation had five demands – which also included removing the mayor and city council members from the budget commission – but after Director of Revenue Rosemary Booth Gallogly made a public statement to reporters that the governor's office would not support that, they amended it to just the two demands. The sticking point, said several familair with the situation, was that the tax increase would be added to the base and not be just a one time fix.
The state-appointed budget commission meets today at 3 p.m. Commission Chair Bill Sequino said Tuesday that the city would likely need the supplemental tax in order to avoid going into receivership.
"If there is no supplemental tax increase you have to wonder if there is anything we can do at all," he said. "At that point, a receiver would have a lot more authority."
On May 22, both Baldelli-Hunt and Brien said they preferred a receiver to a budget commission.
"A receiver has the leverage to make the adjustments that need to be made," Baldelli-Hunt said after addressing the House Finance Committee about the supplemental tax increase. "I don't want a supplemental tax bill to stand in the way of getting a solid plan in place."
Brien added, "I think a receiver is ultimately what we need to do."
On the same day, Baldelli-Hunt said her position on the city's finances is unrelated to speculation that she would like to run for mayor, saying, "This has nothing to do with politics."
THere are hundreds of homes up for tax