Maybe Michael Corleone moving to Tahoe left a bad taste in our mouths. Maybe we wanted him to legitimize the family business instead of going gangster. Whatever the reason, the Hollywood hero of the ensuing year was not the privileged prodigal son, it was the working class Italian-American.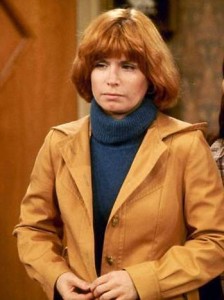 Remember Rocky Balboa and Ann Romano? As "The Godfather" fell from fashion, both "Rocky" and "One Day at a Time" captured America's heart. They both became heroes for how they handled their lots in life.
In fictional Philadelphia Rocky was working as a mob thug while moonlighting as the underachieving bum at the local boxing club. While over in the mythical midwest Ann was living the American dream – married with two beautiful daughters in the suburbs. Then fate intervened for them both. Rocky got a random shot at the heavyweight title and Ann got a divorce.
Before his luck turned around, Balboa was such a disappointment he had just lost his locker. Apollo Creed, the heavyweight champ, needed a chump for a publicity stunt and he picked the Italian Stallion for his nickname. Once Rocky got his shot, he could not only self-will himself to become the best boxer in the world, but his entire life got better. His new girlfriend, Adrianne, miraculously became more atractive the more he trained.
And he didn't even have to win to become a national hero. He was selected at random and lost. But he got second chance and won. He then went on to defend his title against all sorts of popular enemies of mainstream America: a big, black guy who had the nerve to speak his mind and ask for equal treatment, a steroid-shooting Soviet, youth.
Watch this scene from Rocky 3 to see why America hated Clubber Lang so much:
Ann Romano experienced a very different career trajectory. After her divorce, she moved with her daughters to the big city (actually, Indianapolis) where she got a job in advertising and fended off awkward passes by the building superintendent. She fell in love again, but her fiance died in a car accident. Her kids had a series of tough teenage experiences. She changed jobs a couple times, and had a host of ups and downs with her family. In the end, her oldest ran away, her youngest married a dentist and she went into business for herself. Schneider moved to Florida.
Rocky's got his own statue in Philly and no one has thought about Ann Romano until Bonnie Franklin, the actor who played her, died yesterday. But which one do you think is more of a real American hero?