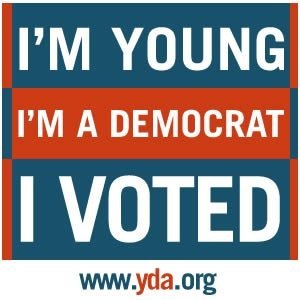 The Young Democrats of Rhode Island and I are proud to announce we are the host chapter for the Young Democrats of America's Northeast Regional Conference, this Saturday at the Rhode Island Convention Center.
Our theme this year; Forward, is in honor of President Obama's campaign slogan and the march our country must take!  The Democratic Party and progressives saw many key victories in 2012 and we are moving forward to achieving victories in 2014 and keeping the White House in 2016!  But the fight is far from over. We still face an uphill battle on achieving legislative victories at the national level and even in many states in the Northeast we are having difficulty passing a progressive agenda. Together we activists in the Northeast can use this conference to lay the groundwork for moving Forward on achieving victories in policy and at the ballot box.
Our two guest speakers are Mayor Angel Taveras and the President of the Young Democrats of America Rod Snyder.
Young activists are the life blood of change and the embodiment of hope and optimism. We need young people to be engaged in government! Which is why our conference will not be an all day rally, but a day of learning about what are the problems facing young people, and how we can organize and move our agenda Forward!
Throughout the day we will have a panel on the policy issues affecting young people, a grassroots organizing panel discussing how we can organize to elect great candidates and move them on the issues, and lastly we will have a panel of young elected officials sharing their experiences. These panelists include an amazing activist for women's health Paula Hodges, the youngest mayor in the state James Diossa and the youngest person to serve as a party chair the Honorable Ed Pacheco. By the end of our conference you will know what the solutions are to many of our problems, how to organize to create change in your community and have met many young people who are making it happen!
But the Young Democrats are not all work and no play, we invite you to three wonderful after conference events Saturday and Sunday.
Saturday evening at 7pm at the Dark Lady in Providence we are having a cocktail party to honor the Young Democrats of Rhode Island's Claiborne Pell Rising Star of the Year Jonathan Boucher. Mr. Boucher is receiving this award for all the hard work he has done for the Democratic Party and the Young Democrats know we will see him going places!
Sunday morning at 11am at Bravo we are having a brunch in honor of our Young Democrat of the Year Marisa O'Gara. Marisa is being honored for her outstanding service as a Young Democrat, and also for her amazing work at Rhode Islander's United for Marriage. She is credited as being one of the most important activists fighting for marriage equality and we are proud to have her on YDRI's board of directors.
Last but not least we are also having a casual event at the Stable. Since many of our guests are coming out of state and Stable is famous for its Sangria Sunday's we are calling is a Sangria Sunday Sendoff! In honor of the history of the establishment and that the Young Democrats can celebrate that every state in the Northeast Region has marriage equality we will be asking guests at Stable to make a donation to Youth Pride Inc. While marriage equality has been accomplished, GLBT/Queer youth suicide is still an epidemic in our state and region. We must keep fighting for our young people!
If you would like to learn more about the convention please visit our Facebook Event.
Young Dems host Northeast Regional Conference

,