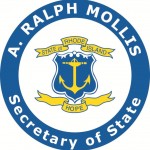 Rhode Islanders should not be surprised to find politicians asking for their autograph for the next week or so.
The nearly 2,400 people who filed Declarations of Candidacy last week have until July 13 to collect the signatures of enough eligible voters to officially put them on the ballot. The thresholds range from 50 for some municipal offices to 100 for state Senate to 1,000 signatures for the U.S. Senate.
"Be prepared for people running for office to knock on your door and approach you at the market."
Candidates will submit their signature papers to municipal boards of canvassers, which will validate the signatures of local voters before sending them on to us. We have until July 20 to certifiy that candidates collected enough signatures to officially be placed on the ballot for the Sept. 11 primary and Nov. 6 election.
Many other milestones are included in a free 24-page guide that will help voters and candidates navigate this year's elections. "Election Calendar 2012" outlines crucial deadlines from registering to vote to requesting a mail ballot.