Check this out.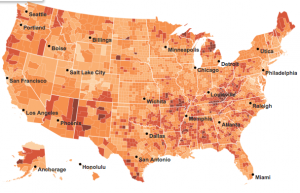 This is a really cool map of the US, showing where federal tax dollars are going. That is, to which parts of the country. It has a number of different categories, such as Social Security, Medicare, Medicaid, Income Support, Unemployment,  plus an overall picture.
Guess which parts of the country are hoovering up most of the federal tax dollars? Think it's the welfare queens in NYC, Chicago, and LA?
Nope.
It's the south. As in, the Red States, the ones most likely to support candidates who are screaming the loudest about the tax burden and the need to cut taxes.
The other irony is that the states receiving the most fed money tend to be on the lower end of state taxes.  Take a state like South Carolina.  SC already has a Republican Legislature, Governor, low taxes, a friendly business climate, the sorts of conditions conservatives are advocating for RI.
Guess what?  They get more back from the fed government than they pay. What this means is that Blue States, like NY and California and NJ are subsidizing low taxes in the south.
I have addressed this theme before. I apologize for any redundancy, but this situation continues.
The fact is that the sorts of policies that conservatives advocate don't work. Last I checked, SC's unemployment rate was pretty much up there with RI's rate.  IIRC, they were one place behind us.
Look at the map, see the concentration of benefits in Alabama, Mississippi, Kentucky, Tennessee, and Georgia, as well as highly rural parts of Washington, Oregon, New Mexico, Michigan, and Texas.
The problem we face as a state is not something that can be solved on a state level. It's too big. It's a national problem. Forbes Mag recently had libertarian paradise New Hampshire as a state facing one of the biggest budget shortfalls in the nation.
We need investment in our country as a whole.  The whole country needs to address this. Cutting taxes in RI won't solve anything. It will just make us more like South Carolina.