Browse:
Home
/
Jennifer Boylan
Jennifer Boylan
Jennifer Boylan is a volunteer in the RI Chapter of Moms Demand Action for Gun Sense in America
By Jennifer Boylan on March 26, 2017
Rhode Island can and should enact stronger laws to keep guns out of the hands of people who should not have them. Please contact your elected officials and ask them to support H5510/S405 to protect Rhode Island's most vulnerable residents: women, families, and children.
Posted in Connecticut, Criminal Justice, Domestic Violence, Featured, Gun Control, Massachusetts, New York, Rhode Island, State House, Women | Tagged Everytown for Gun Safety, General Assembly, Harold Metts, Rhode Island Coalition of Domestic Violence, Teresa Tanzi | Leave a response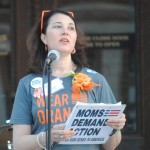 By Jennifer Boylan on October 23, 2016
So what has Rhode Island's General Assembly been doing about gun violence? So far, virtually nothing.
Posted in Activism, Featured, Gun Control, Opinion, State House | Tagged Connecticut, newtown, Rhode Island Chapter of Moms Demand Action for Gun Sense in America, Teresa Tanzi | Leave a response