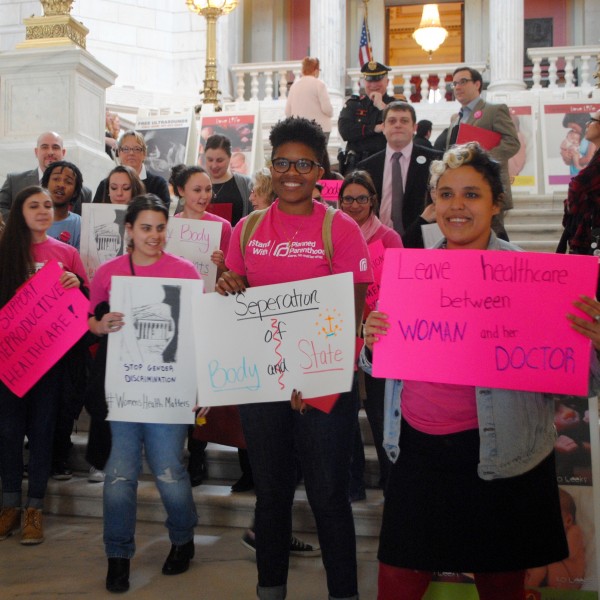 If the Supreme Court or President Donald Trump manages to repeal Roe v. Wade, there is really nothing in Rhode Island law that would protect a woman's right to have an abortion. That's why legislators are announcing today a bill that Planned Parenthood says would integrate Roe v. Wade into state law
"In the past week, we have seen the President show little regard to women, immigrants, and refugees. He has used his pen to further marginalize people, including stripping away access to reproductive rights around the world," said Providence Senator Gayle Goldin, the sponsor of the bill. "Now, more than ever, we need to stand up for the rights of all people in Rhode Island. I join with my colleagues to introduce legislation that will ensure reproductive rights will always be protected in Rhode Island."
Providence Rep. Edith Ajello, the House sponsor, says she has 35 co-signers in her chamber. She says more than half of the 75 member House supports the bill.
"Despite the grim national picture I am optimistic for Rhode Island," she said. "Together, we can protect reproductive rights from attacks at the federal level. We must never go back on access to safe, legal abortion."
President Donald Trump, who promised to appoint a Supreme Court justice who would overturn Roe v. Wade, last night nominated Neil Gorsuch to the Court. "He's never ruled on a case hinging on the constitutionality of abortion restriction," reported Vox yesterday. "So the best way to look at his views is to look at how he's thought about birth control and about assisted suicide. Together, it appears he is more likely pro-life than pro-choice."
Some say Roe v. Wade would be difficult to overturn. "Legal experts," reports 538, "say that even if Trump replaces Scalia with a justice who shares the late conservative's belief that there is no constitutional right to abortion — and if Trump goes on to fill future vacancies, shifting the court's balance of power — the precedent in Roe would still probably remain secure." But others say it would be easy to erode. "The more likely scenario, however, would see the court letting Roe stand but incrementally upholding laws that restrict access, making abortions impossible to get — rendering the procedure virtually illegal over time," according to Business Insider.
Ajello and Goldin will announce their bill in what Planned Parenthood calls a "special" press conference today at 3pm in the State House rotunda. Then they will lead a group to hand deliver letters supporting the legislation to the governor's, speaker's and Senate president's offices. They wrote this post on reproductive freedom for RI Future this time last year.
Despite their advocacy and the preponderance of Democrats in the General Assembly, the legislature isn't seen as friendly grounds for a women's right to choose. NARAL Pro-Choice America gave RI an F on its annual women's reproductive rights report card in 2016, downgraded from a D+, and labels both the House and Senate as "anti-choice."
Planned Parenthood posts the scores of individual legislators here.
Newly elected progressive-leaning legislators are beginning to tip the balance of power toward reproductive freedom.
"Last fall, six anti-abortion incumbents in the House were defeated by pro-women's health candidates," according to a press release from Planned Parenthood Votes! Rhode Island. "Newly-elected representatives Julie Casimiro, Susan Donovan, Jason Knight, Marcia Ranglin-Vassell, Evan Shanley and Moira Walsh have signed on as co-sponsors."
Planned Parenthood notes that polls show Rhode Islanders support reproductive health care.
The announcement is part of the annual Reproductive Freedom Advocacy Day in Rhode Island.
"On Reproductive Freedom Advocacy Day, supporters of reproductive health care will make it known that Rhode Island officials need to protect and expand reproductive health and rights in the state," said Craig O'Connor, director of public policy & government relations for Planned Parenthood Votes! Rhode Island. "Despite the fact that many Rhode Islanders support reproductive health care rights – including the right to abortion – far too many of our elected officials remain anti-women's rights. We must continue to fight so all people in Rhode Island have the right to make their own personal medical decisions about pregnancy, without political interference."
Bill would protect reproductive rights if Roe v. Wade is overturned

,