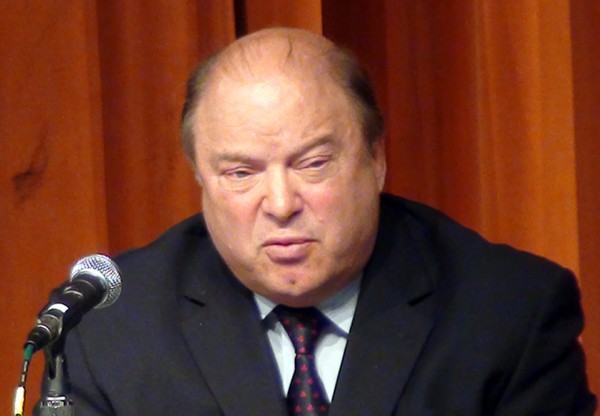 As Republican Bob Flanders mulls running for US Senate, East Greenwich, where he lives, is getting an up close and personal look at how the former Central Falls receiver and state Supreme Court justice approaches municipal government.
Earlier this week, in his first interview since announcing his congressional curiosity, Flanders told me he's been talking with EG Town Council President Sue Cienki about imposing Central Falls-styled restructuring in East Greenwich.
"We talked about doing some sort of analysis," said Flanders, of his talks with Cienki. Cienki is serving on the host committee for a Flanders fundraiser next week.
Not long after Flanders and Cienki spoke, the Town Council, without going out to bid, hired Gayle Corrigan, a longtime Flanders friend and confidant who was his chief of staff in Central Falls, to review school finances. Since working for Flanders in Central Falls, Corrigan has built a niche for herself recommending governments take a hard line with rank and file employees. She's also worked on public restructurings in East Providence and at the Central Coventry Fire District.
"Gayle was someone we did talk about, yes," Flanders told me. "We talked about her skill set and what she can bring to the table."
Since East Greenwich hired Corrigan in mid May, there have been several caustic Town Council meetings, with elected officials and residents yelling at one another, and several staff members at the schools and town have been dismissed or resigned. Beloved Town Manager Tom Coyle appeared in executive session Thursday evening to negotiate terms of his dismissal, which may have woke the silent majority in town that cares more about the PTG than shrinking government.
Some Flanders supporters have expressed dismay with the move to fire Coyle. "I am hoping the council puts some information out about this soon. It's not appropriate, in my opinion, to have such a dramatic upheaval in a Towns structure without an immediate & coinciding explanation," said Jody Stone,  a longtime Flanders friend who has expressed support for Flanders congressional run. 
The Town Council has another executive session scheduled for 8am Monday morning, ostensibly to discuss Coyle's future. On Friday afternoon, the director of student services unexpectedly resigned.
(Original video courtesy of the East Greenwich Town Democratic Committee.)
The surprise funding cuts and sneak attack of cutthroat politics has ripped at the thin veneer of Mayberry in this town known for top-notch schools and high-priced real estate.
"It's very similar to what was being proposed in Central Falls," Flanders told me.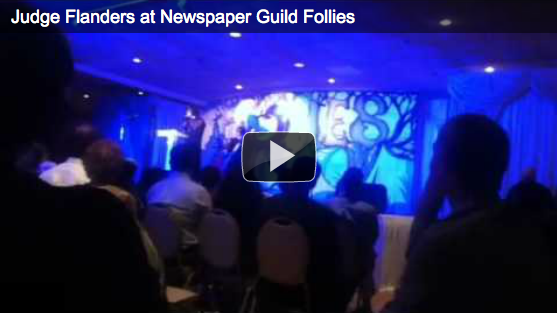 Because East Greenwich schools aren't state-controlled as in Central Falls, Flanders said the cuts could go even deeper. Flanders is infamous for telling Central Falls employees they could choose between a haircut and a beheading, then lampooned his role in Central Falls at the Follies by dressing up as Darth Flanders, Lord of the Pink Slip.
Liberal-leaning residents say the conservative Town Council is being penny wise and pound foolish. Saving a few hundred dollars on property tax bills by cutting school funding, they say, will cost property owners thousands of dollars in real estate value. Many fear fiscal management is taking a back seat to conservative ideology.
Cienki surrogates have, for months, compared East Greenwich to Central Falls. Stuart Peterson, a failed school committee candidate close to Cienki, posted a comparison (that neglected tax capacity) between the two municipalities on a local Facebook page in March. During budget deliberations, Town Councilor Nino Granatiero likened the situation in East Greenwich, which passed a budget reducing property taxes this year, to a "death spiral."
Cienki didn't mention anything about a Central Falls-style receivership in this March local letter to the editor. Instead, she wrote, "There is not any one thing to consider while excluding everything else.  It requires compromise, trade-offs and tough decisions."
Few feel Cienki has lived up to those words. Her close adviser and former town manager Bill Sequino said people are complaining to him in the grocery store. Former Republican Town Council President, who declined to talk to this reporter, is said to have privately chastised Cienki for her roughshod management style. Mark Schwager, the lone Democrat on the Town Council who has long happily caucused with the GOP majority, feels betrayed. Overachieving parents are threatening to move to Barrington. And labor unions are bracing for a fight. Many residents fear Cienki secretly seeks a position for Corrigan in Town Hall.
But, according to the town charter, only the town manager can hire or fire employees. That could be why popular Town Manager Tommy Coyle's job is in jeopardy, who was well-liked by most town councilors, residents and staff before Corrigan was hired.
Coyle began his service with the town as a patrol officer for the police department in the late 1980's and rose through the ranks all the way to town manager four years ago.  Corrigan's employment history has been, at best, more bumpy than Coyle's.
"Corrigan was removed from the [Greater Providence YMCA] board by 32-0 vote for providing false information as well as abusing her authority for personal gain," according to the Providence Journal. After Corrigan's removal she and her confidant Lynda Dykeman, a YMCA employee at the time, sued the organization for discrimination.
Dykeman, who in May worked for Corrigan, now works for the East Greenwich School Department as the interim finance director. David D'Agostino, the brand new town solicitor, who replaced longtime town lawyer Peter Clarkin earlier this month, worked with Corrigan when he was the lawyer for the Central Coventry Fire District.
Corrigan also cried foul when she was fired by Rhode Island Housing in 2013, saying she was pushed out for calling attention to financial mismanagement.
Perhaps most famously, Corrigan was fired from a job at Senesco for "surreptitiously running a staff leasing company which provided contract labor to Senesco, from which she was profiting," according to an investigative report from NBC 10 in 2012. Corrigan's mother was fired from Senesco at the same time.
Flanders told me he first met Corrigan when she worked for Senesco and he was the company's attorney. "We go back at least ten years," he said. "She worked for a client of mine."
Corrigan told the Providence Journal in 2016 she doesn't mind the conflict that comes with shrinking government.
"There's going to be controversy; there's going to be conflict," she said. "I am comfortable with that. I don't know if it's because of my experience in Russia or in other places, but I'm definitely comfortable with conflict and I don't shy away from it; I work to get it resolved."
But in East Greenwich, residents wonder if the conflict is worth the effort. Many are enraged that the restructuring is being foisted on their otherwise sleepy and successful community. This upscale suburbia, after all, is not experiencing the same financial difficulties as Central Falls, East Providence, or Coventry. While the Town Council made noise about financial dire straights, it lowered property taxes this year. In East Greenwich, where
In a previous interview, Flanders told me a primary reason Central Falls had to file for bankruptcy was it had no ability to raise taxes on the mostly poor residents. This isn't the case in East Greenwich, where the average home sells for more than $400,000 and municipal finances are driven more by real estate value than property tax rates.
Earlier this month, Flanders sold his 4,000 square-foot home – with three garages, a pool, and a tennis court – in the swanky Queens Grant neighborhood. Zillow calls it a "stately colonial" and it was listed for $779,000. He and his wife are moving up the road a few miles to a smaller place. The kids are grown up and long graduated from the local school system, so the Flanders family felt it was time to downsize.
Bob Flanders, Sue Cienki stage a coup d'etat in East Greenwich

,