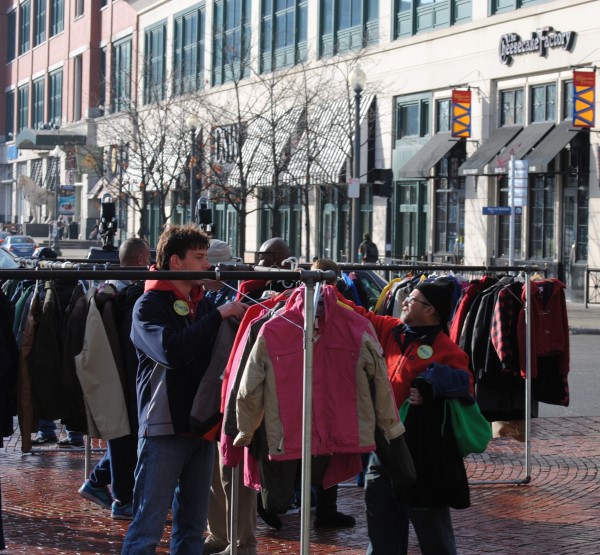 On
November 25
for the 20th time, Rhode Islanders from all walks of life will gather at locations from Cumberland to Newport, from the State House, to South Kingstown and many places in between including most of the facilities of the Greater Providence YMCA to make sure that Rhode Islanders have warm winter coats this year.  Already many communities, businesses churches, and assorted characters are collecting winter coats at locations all over the state. Each site is unique and independently organized.
The event was started as a protest against the damage consumerism does to our communities and to the environment of planet Earth. We wanted to do something that could highlight the problems but also provide something of real value to the community.  Hence, the Winter Coat Exchange.
The need is still great, and the spirit of Rhode Islanders is still giving.  We encourage everyone who can donate a coat to look for a site near you and donate one.  People are also welcome to volunteer at a local site.  All of the sites are listed on the web at 
http://prosperityforri.com
    For those who need a coat, please come get one.  No questions asked, no paperwork needed.
The few coats not distributed at the Providence site on
November 25
will be carried by volunteers to the Standing Rock Reservation to keep our brothers and sisters on the front lines at the Dakota Access Pipeline warm this winter. This is the first time coats left at the end of the day have not been further distributed through local partners. All of the other sites have local connections to make sure coats not given away
November 25
continue to be available in the community.