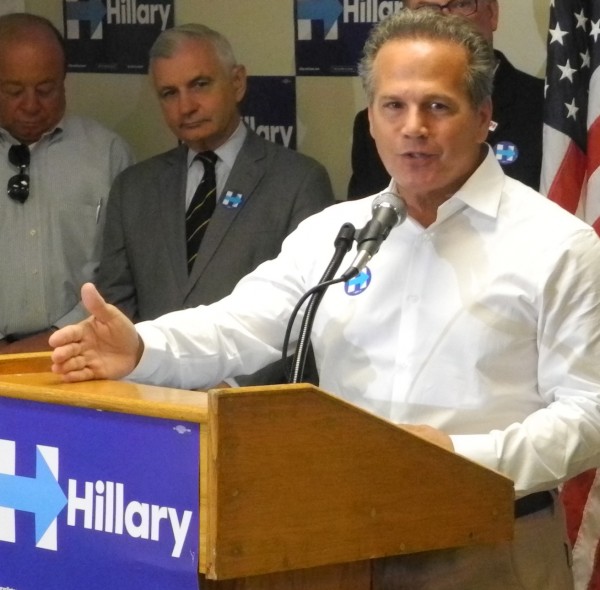 Congressman David Cicilline's new bill won't actually drain the swamp out of Trump Administration, but it could give America a better glimpse at that ecosystem.
It's called the DRAIN The Swamp Act, or the Determining if Regulatory Actions are in the Interest of the Nation or the Swamp Act, and it would require "agencies to report any conflicts of interest for President Trump or senior members of his administration when changing major rules," according to a press release from Cicilline's office.
"Donald Trump promised to drain the swamp. But that's not what he's doing," said Cicilline in the press release. "He's undermining regulations in order to benefit himself, his family, and his close friends. The American people deserve to know that the President and his top officials are acting in the public interest, not in their own financial interests."
The bill is co-sponsored by reps. John Conyers, Jr. (D-MI), Peter DeFazio (D-OR), Raul M. Grijalva (D-AZ), Gerald Connolly (D-VA), and Lloyd Doggett (D-TX). The House Judiciary Committee's Antitrust Subcommittee has jurisdiction over the legislation and Cicilline is the ranking member of that subcommittee.
Cicilline also co-authored a report, released today, called, "Deregulating Dollars: How Donald Trump's Reckless Anti-Regulation Agenda Could Boost His Own Pocketbook."
According to the press release, "agencies will be required to report whether adopting or rescinding major rules will substantially enrich President Trump or senior officials in the Trump Administration" and would apply to "rules that have a $100 million effect on the economy or will result in a major increase in costs or prices for consumers."
According to a New York Times report, it "would compel top federal officials, including President Trump, to disclose how changes to regulations might benefit them financially. The bill comes after a recent investigation by The New York Times and ProPublica showed that some appointees to the Trump administration's deregulation teams had close industry connections and could be reviewing rules that their previous employers had tried to weaken or eliminate."
In a previous report, The New York Times uncovered "a string of possible conflicts, including some hires who may be reviewing rules their previous employers tried to weaken or kill, and others who may personally profit if certain regulations are changed."
Cicilline legislation would provide view into Trump's swamp

,