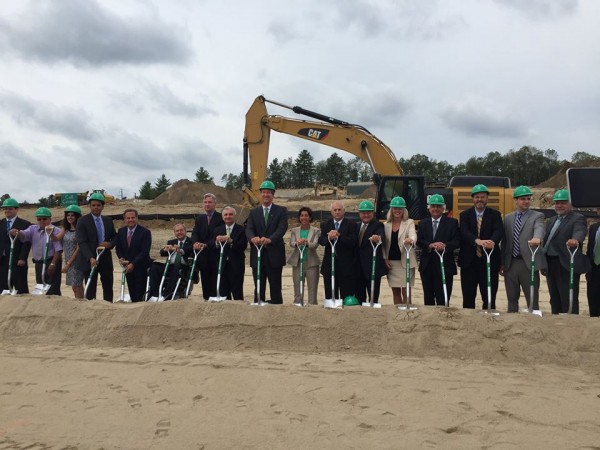 Last week the big shots celebrated the groundbreaking for the new Citizens Bank headquarters on green space just west of I-295 in Johnston. Not me. I think the state is a triple loser, losing open space, tax revenue, and spending tax money. The 3,200 jobs that are supposed to be established there are not new but just a relocation of Citizens employees from built up areas in Providence, East Providence and Cranston.
Taxpayers are out because Johnston gave them a 20 year "tax treaty" (aka subsidy) and we will spend millions for a new interchange on I-295 at Greenville Avenue, and to extend sewer lines there. Providence Gas Company executives started Grow Smart RI because they were concerned with the high costs of providing infrastructure to such developments. Now that company is part of National Grid and they closed their building in downtown Providence, you cannot even pay a utility bill there any more. It seems corporate America is not interested in smart growth. Putting development where we have infrastructure is the core of land use planning, but everyone, including Statewide Planning, the Governor, RIDOT, and our congressional delegation seems ready to ignore this and roll over for Citizens. They don't even seem to care that I-295 may become more dangerous with more traffic and more exit/entrance merges.
The site being developed, about 123 acres, is mostly forest and brush, and  Greenville Avenue, now a pleasant residential area, will inevitably suffer from traffic and ugly sprawl development from the new interchange. Citizens employees may well live even further out, perhaps within the Scituate watershed,  risking eroding our drinking water quality. Employees will do a lot  of driving, there is no serious chance for transit there. Gasoline consumption in the US just set a record high and Citizens Bank seems determined to make us use even more. Perhaps the "fossil free" folks opposing some specific fossil fuel supply projects, (e.g. the Burrillville power plant, Keystone pipeline) should pay more attention to actually reducing the demand for fossil fuels.
Not everyone in Johnston is so pleased with this. I note the Johnston Sunrise had an "open letter" from the Johnston Homeowners and Neighbors Association decrying what Raimondo and Mayor Joseph Polisena have done to facilitate this project which can turn their neighborhood into another ugly commercial strip choked with traffic and gobbling up more green space. But nobody helped or even paid attention, the town council and the planning and zoning boards did what Citizens Bank wanted, including amending the apparently worthless comprehensive plan.
I note that potential subsidies for reusing downtown Providence's Superman Building have drawn criticism from both liberal and conservative groups but the Citizens project has not. As a city kid originally from New York, I think this reflects a Rhode Island suburban mind-set, cities are for the poor and minorities, we move out when we can, no reason to put the jobs there. The East Side, anchored by Brown and RISD, is the main exception.  Liberals and conservatives also mostly see the bus system as for the poor and minorities. Liberals are willing to subsidize it to keep it going, but for the most part will not use the buses themselves. Not even if service is pretty good – as it is in many places.
Finally, I'll contrast this with what I just read about Denver, Colorado which has had unusual success in recovering from the 2008 recession. One key element noted in the article was regional cooperation in which various communities there support each other in generating development and building transit, rather than undermine each other as Johnston has done,  So our cities struggle, maybe face bankruptcy, sprawl spreads further, and our life style keeps us pumping out the greenhouse gases.