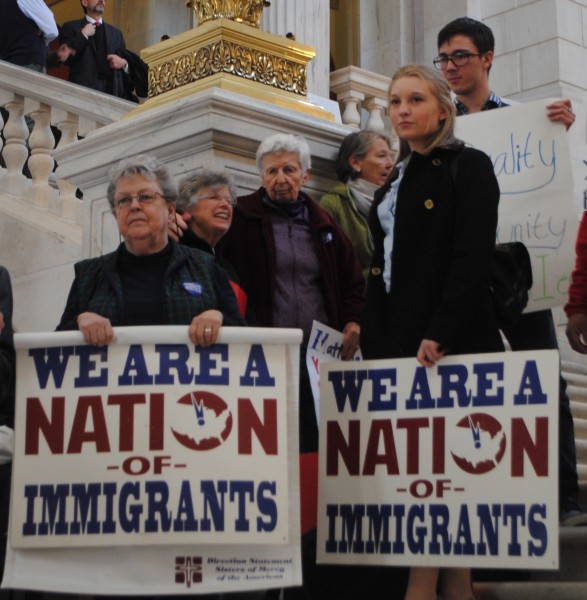 Saying that the time has come for action, not just words, 17 organizations that "work with, or advocate for the rights of, immigrants in Rhode Island have sent letters to all state legislators and municipal leaders calling on them to help DACA recipients with the tools at their disposal."
The Rhode Island Democratic Party has railed against President Donald Trump's decision to end DACA (Deferred Action for Childhood Arrivals), but actual action, in the form of legislation that could help undocumented immigrants in Rhode Island, including the families of children protected by DACA, has not passed in the Democrat controlled General Assembly.
In the letter, municipal leaders were called upon to pass "comprehensive ordinances that would limit… cooperation and collaboration with immigration officials." The ACLU of RI, one of the seventeen groups to sign on to the letters, has shared a model ordinance that would fit the bill.
Three bills stalled in the Democratic-controlled General Assembly this year, but with a special session convening in September, all three could be picked up and passed, adding needed action to the pretty words of the Rhode Island Democratic Party.
H6021, which would generally bar schools and other "sensitive locations" from allowing ICE (United States Immigration and Customs Enforcement) agents access to their facilities without a warrant, passage of which would give DACA students "at least some limited protection from the roundups that have been happening elsewhere."
H5237, which would treat DACA recipients as Rhode Island residents for purposes of qualifying for in-state tuition at the state's public colleges and universities, allowing them to continue their education even as their legal status remains in limbo. The letter noted: "We can't condemn President Trump for refusing to treat DACA recipients as Americans if we refuse to treat them as Rhode Islanders."
Passage of narrower versions of two bills, S183 and H5686, that would provide special driver's licenses to undocumented immigrants. The groups urged that the bills be amended to specifically authorize licenses for DACA recipients, who currently qualify for driver's licenses but will no longer be able to do so once their status expires under Trump's DACA repeal.
The letters concluded by saying:
The Trump Administration's actions have only exacerbated the day-to-day fear and dread that already exists among the immigrant community. Therefore, if you are as appalled as we are at the federal Administration's cruel actions against these innocent DACA recipients, we ask you to demonstrate your concern by taking…  concrete steps… to protect them from the mean-spirited and heavy hand of the federal government."
The groups signing the letters were the ACLU of Rhode Island, Dorcas International Institute of Rhode Island, Alliance of Rhode Island Southeast Asians for Education, Cambodian Society of Rhode Island, Blackstone Valley Economic Progress Institute, DARE (Direct Action for Rights and Equality), Fuerza Laboral, Latino Policy Institute, NAACP – Providence Branch, Providence Student Union, Providence Youth Student Movement, Refugee Dream Center, Rhode Island Coalition Against Domestic Violence, Rhode Island State Council of Churches, and Sojourner House.
There is a rally at the Rhode Island State House tonight to defend DACA.
Immigrant rights organizations call for 'action, not just words' on DACA

,