Access to reproductive health care is one of the many human rights under attack by the Trump Administration. Planned Parenthood is the most high profile target, with the several pro-life organizations planning "Defund Planned Parenthood" protests nationwide on Saturday, February 11, 2017. In response to this, a group of concerned citizens has organized a DEFEND Planned Parenthood event the same day.
The event will start with a 1 p.m. rally at 400 Atwells Ave., Providence, and a march to the Rhode Island State House.
With the term 'Alternative Facts' becoming part of the collective vernacular, DEFEND Planned Parenthood plans to showcase actual data to support the importance of the organization's role in providing access to high-quality, affordable reproductive health care — the majority of which is preventive, primary care. These services help prevent unintended pregnancies through contraception, reduce the spread of sexually transmitted infections through testing and treatment, and screen for cervical and other cancers.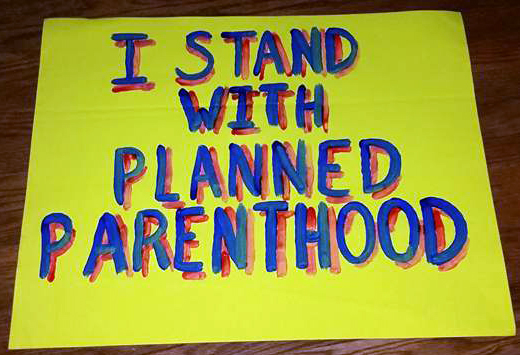 In an effort not to impede with access to care at Planned Parenthood, which is open for patient services, the organizers chose to hold the rally outside of the Mother of Life Center and Problem Pregnancy of Providence, an organization that provides disinformation about women's health, pregnancy and abortion care in the community from a non-medical, Christian perspective.
"In addition to supporting Planned Parenthood's mission, we feel that religious beliefs are personal and shouldn't be influencing legislation or interfering with access to health care," said Vida Mia Ruiz, a local resident and public health midwife. "They are not providing actual health services, but preying on vulnerable women who should be obtaining medical advice from a professional."
Those who support defunding claim that the 70,000 Rhode Islanders who access health care at Planned Parenthood Health Centers could be absorbed by Community Health Centers. This is not backed by data. According to a 2013 report from the Guttmacher Institute, nearly one-third of all women in need of birth control live in counties where Planned Parenthood is the primary safety-net health care provider.
For 99 years, Planned Parenthood has played a vital role in reproductive health equity by providing affordable and quality healthcare to historically marginalized communities. Disproportionately impacted by these restrictions are women of color, immigrant women, LBGQT, resulting in increased health issues. "All people should have equal access to health care and yet, depending on where you live, how much money you make or the religious beliefs of your employer, access routine preventative health care such as birth control or abortion is out of reach, " said Ruiz.
Interested participants are encouraged to bring their own signs supporting Planned Parenthood. Limited pre-printed signs and supplies to make them will be available at the rally, as well as "I Stand with Planned Parenthood" badges.
Saturday: Rally to defend Planned Parenthood

,