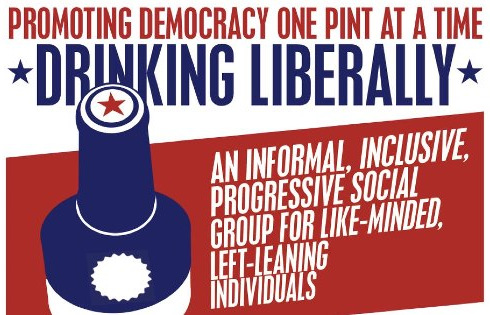 If you are left-leaning in the Providence area, there are a lot of ways to get involved in activism, including social events and low key groups to meet new people and talk about the issues.
One of those groups is called Drinking Liberally. They describe themselves as: "An informal, inclusive, progressive social group for like-minded, left-leaning individuals." Their slogan is: "Promoting democracy one pint at a time." In the description of their February 1 st event, they invited anyone who needed a "good, stiff drink."
I want to draw attention to the word "inclusive." Calling a group inclusive means that they do not discriminate, that anyone who has faced discrimination in society will have a voice in this group. Drinking Liberally should not be calling themselves inclusive.
Many may not have heard the term "invisible disabilities," but everyone knows what they are. They include mental illness, substance use/addiction, chronic pain, and learning disorders—any disability you cannot see from the outside.
Drinking Liberally's activities are not inclusive to invisible disabilities. The entire premise of the group focuses on drinking as a way of coping with problems and drinking to excess. Addiction is one of the most common invisible disabilities. Drinking Liberally's events take place at a pub, and many people recovering from addiction aren't even able to set foot in a bar, let alone be around others who are drinking. This isn't just people whose primary addiction is alcohol—drinking can lead to relapse in other substance addictions as well.
It's even more concerning because many people who engage in problem drinking are in denial. In a group where everyone is drinking, they may not realize when they've indulged too much. The very name of Drinking Liberally encourages people to drink to excess. Not everyone can hear that encouragement and maintain their own safety. In fact, I think most of the people they're hoping to invite fall into this group.
It's important to remember that substance abuse never exists in a vacuum. Mental illness and chronic pain make people many times more vulnerable to substance use. In any year, one in five Americans will experience mental illness, and one in ten experience chronic pain. Moreover, individuals who are especially vulnerable in society, and face high amounts of discrimination, are more likely to use than others.
For example, LGBT individuals are two to three times more likely to abuse substances than the general population. American Indians are almost twice as likely to use substances as the general population. We live in a country where 18-20% of women have been raped and a third of women have experienced intimate partner violence, so it's safe to say that many of the women you come in contact with on a daily basis have had these experiences. Both of these happen at even higher rates among women of color. Rape victims are 13 times more likely to develop an addiction, and domestic violence victims are 15 times more likely to abuse alcohol than the general population. Substance abuse is also more common with lower socioeconomic status, and lower levels of education.
So let's go back to Drinking Liberally's claim of inclusivity. Intersectionality, for those who don't know, refers to the effect of having two or more disadvantages in society, for example, the difference between facing the one struggle of a white woman, or the dual struggles of a black woman. From an intersectional perspective, if their events are inaccessible to people with addiction, it also excludes or potentially harms many of the people I've mentioned above whose voices they claim to value—women, the LGBTQ community, people of color, people who live in poverty. This is not how you create an inclusive environment.
Progressive activism has a major flaw of being accessible primarily to upper-middle class white individuals, and this has been true throughout history. To achieve genuine inclusivity of the populations we fight for, we need to expand recognition of people with invisible disabilities, and recognize the significance of where these forms of discrimination intersect.
Drinking Liberally isn't inclusive of those with invisible disabilities

,