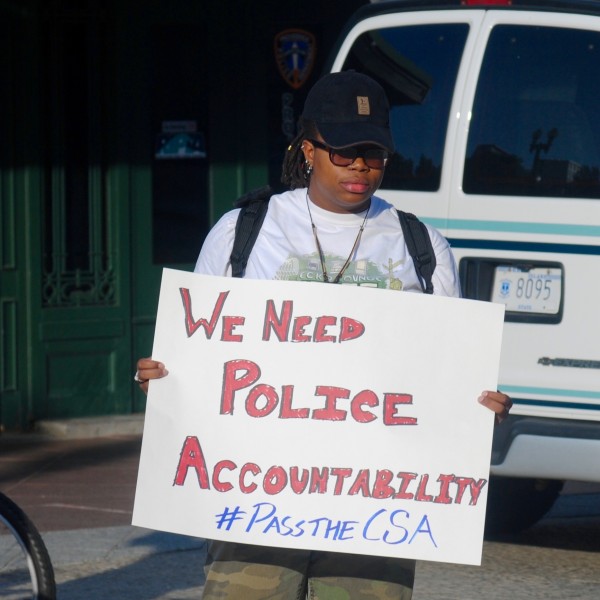 At a time when it is difficult for all people— especially people of color— to feel safe from bodily harm, and equally protected by the law, we must be vigilant in disarming people who demonstrate that they are unable to wield power safely and fairly. Mayor Jorge Elorza has expressed pride about the relationship the Providence Police Department has with communities here, but Police Officer Matthew Sheridan repeatedly endangers the people he has been charged to serve, and threatens whatever peace exists in this volatile moment.
Since joining the Police force in October of 2014, Patrolman Matthew Sheridan has logged several documented incidences of gross and unwarranted violence and aggression toward members of our community. He assaulted and illegally arrested Christopher Johnson near the nationally recognized poet's home only because Johnson exercised his right under Rhode Island law and the constitution not to provide his name when not suspected of a crime. Video footage shows Officer Sheridan brutally assaulting Esmelin Fajardo, a young disabled employee of a local nightclub. Before that, Sheridan attempted to choke long time community resident and father of four, Charm Howie outside of his own house while Mr. Howie's children slept inside (Mr. Howie endured more than year of prosecution by the City on charges Patrolman Sheridan fabricated during this incident, and was recently acquitted of all charges). Without even considering how many other examples may exist, these documented instances of abuse are unacceptable for any person, let alone one who is paid with tax dollars to carry a gun on our streets. A pattern of violence has emerged, and we have to respond before a fatal accident occurs.
2016 brought a spike in hate crimes and racially motivated vandalism in Rhode Island: In May, a swastika was painted on sign outside a temple in Pawtucket; in July, a mosque was defaced in South Kingston; and in December a Providence community organization was broken into and vandalized. How can we trust our elected officials and other municipal employees— including police— to protect us and serve the common good, when a man this violent is allowed to remain in uniform? We are calling on Mayor Elorza, Police Commissioner Steven Paré, and Police Chief Hugh Clements to protect the people of Providence by getting Matthew Sheridan off the street.
You can sign the petition to have Mathew Sheridan removed from the force
here
.