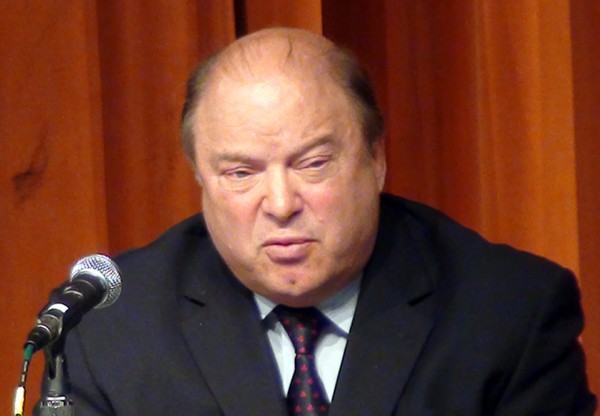 Bob Flanders, the former state Supreme Court justice who is mulling running for Sheldon Whitehouse's Senate seat, said he expects President Donald Trump's so-called Muslim travel ban will prevail at the United States Supreme Court.
"Whether you believe it is overly broad or too religiously focused, I would be surprised if they upheld the circuit court's decision," Flanders told RI Future in an interview this morning. "Legally, I think [Trump] had the power to do it. While I certainly don't agree with discriminating against anyone, I'd be surprised if the Supreme Court doesn't agree with him."
Several lower courts have ruled against Trump's proposed travel ban on people from six Muslim majority nations. The Supreme Court could begin ruling on the matter as early as this week.
Flanders is considering forcing a GOP primary against Coventry state Rep. Bobby Nardolillo for the right to run against Democrat Sheldon Whitehouse for one of Rhode Island's Senate seats. He said he isn't considering running for governor "at this time."
A longtime Republican, Flanders confirmed he voted for Trump in last year's election, saying, "I thought he was a better candidate than Hillary Clinton."
He supports Trump's healthcare plan, but added "I think that is going to get modified in the Senate," he said. "I'm for coverage for as many people as possible." When asked if he supports Obamacare, he said, "The question is is that the best way to go without forcing people to buy coverage. You want people to have freedom of choice. I'm for freedom of choice, but also requiring minimal coverage for people who need basic coverage."
Flanders said he falls somewhere between Jack Reed and Mitch McConnell on the ideological spectrum, and thinks he can help engender compromise between Republicans and Democrats. "We have to have someone who can get something done and compromise," he said, "not just lob bombs at the other side."
Flanders' is known more for his sharp wit than his penchant for bringing people together. As the receiver for Central Falls during bankruptcy, he famously said public sector workers had a choice between a haircut and a beheading. Then he lampooned his role at the Follies as Darth Vader, Lord of the Pink Slip.
As he mulls running for federal office, he's taken a new interest in the local town council where he lives. The East Greenwich Town Council recently hired Gayle Corrigan, who worked for Flanders during the Central Falls bankruptcy, to suggest consolidation of school and town services. Flanders said he talked to Town Council President Sue Cienki about Corrigan's "skill set" and "what she can bring to the table" before the Council decided to formally seek the advice of an outside financial adviser.
Flanders said the EG Town Council accomplished town/school administrative consolidations that he and Corrigan were not able to accomplish in Central Falls – largely, he said, because the Central Falls school district is run by the state, not the municipality.
"It's very similar to what we proposed in Central Falls," Flanders said.