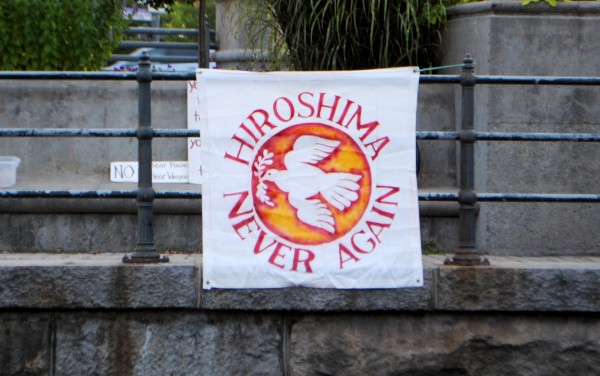 Most peace-aspiring people pause in early August to mourn the atomic bombings of Hiroshima and Nagasaki. Rhode Island, on the other hand, takes a dramatically different approach. We are the only state that still celebrates Victory Day, which marks the end of World War II in Japan.
This year Rhode Islanders can do both.
On Sunday, August 6 – 72 years to the day after the United States detonated the "Little Boy" weapon on Hiroshima – peace activists are gathering in Jamestown to mark one of humanity's most most destructive acts of war. The second annual Hiroshima/Nagasaki remembrance event in Jamestown will be held at noon to 2pm at the East Ferry Green (the park at the eastern end of Narragansett Avenue, just south of the Newport Bridge).
"People of all ages are invited to come learn about the current status of nuclear weapons worldwide, and join in activities that witness to the world's present, urgent need for peace," according to a press release from organizers Dorothy Strang and William Smith. "Veterans and active-duty military are especially invited to participate," it said.
"Bring banners, signs, families," said a preview of the event. "Come to witness, to learn, and to act."
The event will be both a remembrance of the bombings as well as a "call for action towards world peace in these times of increased nuclear threat," said the press release.
Strang and Smith are longtime anti-nuclear activists. Smith said RI Mobilization for Survival, a group he was involved with in the 1980s, designed the Hiroshima remembrance art RI Future has published (pictured above) in recent years. "We made a couple dozen of them and got churches around the state to display them," he said. "I think the stencil is still stored in my barn."
The two organized a similar event last summer in Jamestown. This year, with a renewed interest in anti-nuclear activism thanks to President Donald Trump and North Korea, they are expecting a bigger turnout.
"The Doomsday Clock of the Bulletin of the Atomic Scientists has recently moved to 2 1/2 minutes before midnight, the closest it has been since the early 1980's," according to their press release. "When the atomic bomb was dropped on Hiroshima and Nagasaki, the United States was the only nation with nuclear weapons. Now there are nine: Britain, China, France, India, Israel, North Korea, Pakistan, Russia, and the United States. In 1968, five of those nations negotiated the Nuclear Non-Proliferation Treaty and agreed to pursue disarmament. Nearly 50 years later, there is no disarmament. In fact, most nuclear-armed countries, including the U.S., are modernizing their nuclear arsenals."