When climate activists protested at a TD Bank in Barrington last week, Burrillville police responded.
Four officers and a trailer were dispatched from 30 miles away because Burrillville has a "special operations unit" trained in what federal officials call "field force extrication tactics." In layman's terms, detaching protesters who have locked themselves in civil disobedience.
FANG Collective activists and allies, who have led the campaign against a proposed power plant in Burrillville and participated in Providence solidarity actions against the Dakota Access Pipeline project – both of which have included lockdowns – were planning a peaceful protest in, of all places, Barrington. FANG has focused on calling attention to TD Bank's financing of the controversial pipeline project in North Dakota, and there is a bank branch in the affluent East Bay community.
Upon learning of the FANG protest in the otherwise staid suburbia, Barrington Police Chief John LaCross didn't want to take any chances.
"We had a specialized unit from Burrillville if anyone was going to chain themselves to the outside or the inside of the bank," LaCross said. No arrests were made, no one locked themselves to anything, and LaCross described the action as peaceful.
He said he "knew the FANG group was up in Burrillville" and that local officers had recently become trained in dealing with lockdown civil disobedience. So he called Colonel Stephen Lynch, the Burrillville police chief, and requested mutual aid.
Lynch told me he recently sent four officers to federal training in Alabama, anticipating opponents of the proposed power plant in Burrillville may decide to engage in further civil disobedience. There have been at "three or four" protest-related arrests in Burrillville since the controversial power plant proposal became a flashpoint, he said. One incident, in 2015, involved a lockdown, another arrest later that year involved planting tulips on private land slated for power plant development. A third incident involved a tree sit.
"We need to be able to make sure people can be dealt with professionally and properly," Lynch said, emphasizing that dealing with protesters stresses resources and imperils public safety.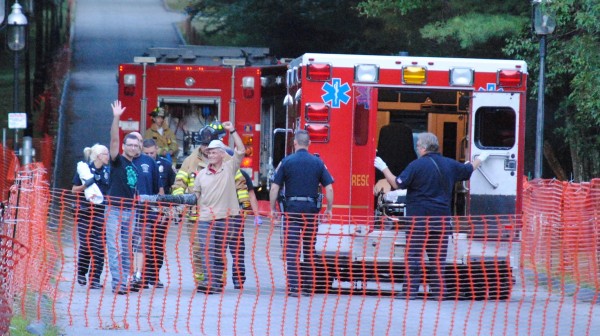 Lynch called the team a "special operations unit dealing with extractions" but was hesitant to talk much about what they do. "I'm not going to get into the gory details with that unit," he said. "I'm not going to handicap our people by telegraphing what we are doing."
He didn't tell me when officers attended the training – "it was several months ago," he said – or even which federal agency held the training. "I think it was under the umbrella of Homeland Security," he said, "but I'm not positive."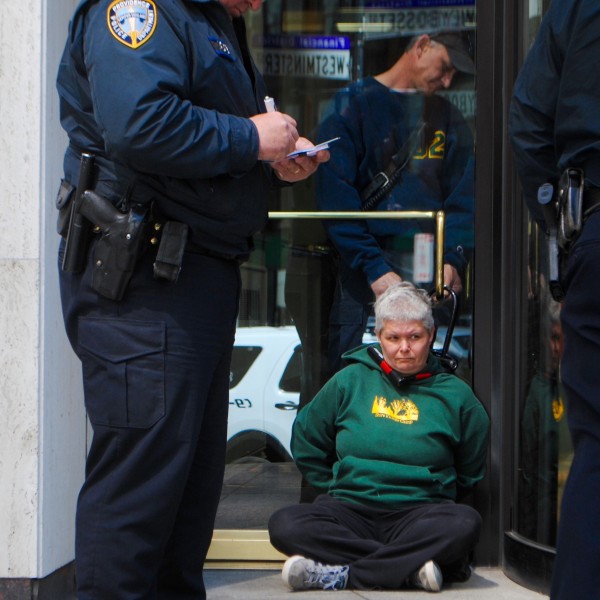 Providence fire fighters, who recently have dealt with a string of lockdowns – recently at TD Bank and Textron before that – train for these tactics in Anniston, Alabama at the Center for Domestic Preparedness, a division of the Federal Emergency Management Agency, which is under the umbrella of the Department of Homeland Security.
FEMA's Center for Domestic Preparedness offers a three-day class called "Field Force Extrication Tactics" for fire fighters and police officers.
The FFE class "provides students with the knowledge and skills to operate the tools necessary to extricate individuals safely from protester devices while reducing liability and ensuring due process," according to CDP's website. "Responders receive instruction in protest situations, legal considerations, responsibilities of extrication teams, and extrication techniques required to defeat protester devices."
Think of a lockdown as a sit-in that is much harder to disperse. Activists use bike locks, bolted PVC pipe and sometimes elaborately-designed, plastered sleeves to prevent – or delay – police from dispersing or arresting them. The devises – protesters call them lockboxes or, sometimes, dragon sleeves – can require power tools to thwart. It can be dangerous for both activists and law enforcement.
"It is tricky work to get people out safely," said Lynch, the Burrillville police chief. In addition to sending some officers to Alabama, the Massachusetts State Police gave a talk to Burrillville police about the subject, he said. "If people aren't going to cooperate with law enforcement, we need to be able to deal with that as safely as possible."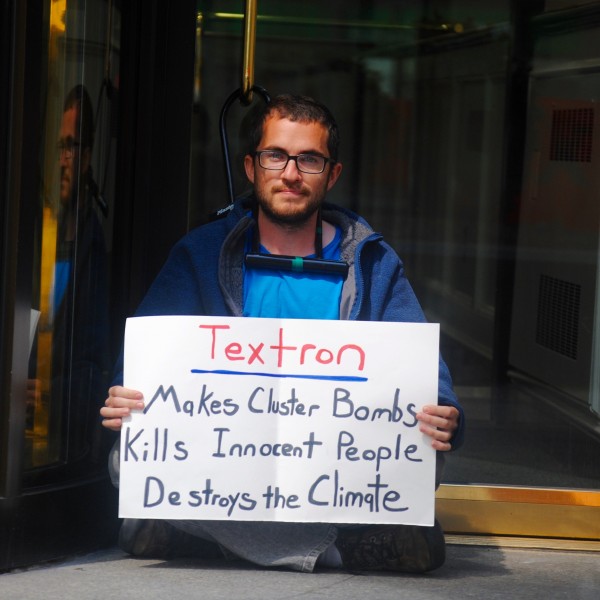 Activists have used the tactic in Burrillville, protesting the proposed power plant, and in Providence, protesting the DAPL project and Textron's now-defunct cluster bomb program. FANG activists have been involved in all three campaigns, but lockdown arrests have ranged from youngish out-of-state agitators to a tenured URI professor. Lockdowns can be dramatic scenes, and almost always entice news coverage. In all three examples, the lockdowns raised the profile of the protest with the mainstream media.
The tactic first became a popular tool in civil disobedience during the Pacific Northwest "Timber Wars" of the 1980s and 1990s. Forest defenders would lock themselves to trees or across access roads to physically prevent loggers from cutting down old growth forests. Legendary peace activist Dot Fisher-Smith made global news in 1996 when, at age 68, she secured her neck and head to the axle of a logging truck using a bike lock. In 1999, lockdowns were used extensively in the Seattle WTO protests. More than a decade later, they came back into use during the Occupy Wall Street protests. The tactic is trending again among climate activists.
All photos by Steve Ahlquist, except final one of Dot Fisher Smith, from the Medford-based Mail Tribune.
In case of lockdown, Burrillville police follow FANG activists to Barrington

,