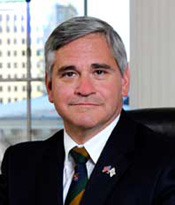 Attorney General Peter Kilmartin is one of 17 from across the country to already officially rebuke President Donald Trump for his executive order concerning immigrants and refugees from Middle Eastern countries.
"Religious liberty has always been, and always will be, a bedrock principle of our country and no president can change that truth," says a press release from the 17 attorneys generals from Rhode Island, California, New York, Massachusetts, Connecticut, Vermont, Maine, Pennsylvania, Washington DC, Maryland, Virginia, Illinois, Iowa, New Mexico, Oregon, Washington, and Hawaii.
"As the chief legal officers for over 130 million Americans and foreign residents of our states, we condemn President Trump's unconstitutional, unAmerican and unlawful Executive Order and will work together to ensure the federal government obeys the Constitution, respects our history as a nation of immigrants, and does not unlawfully target anyone because of their nation of origin or faith," says the press release.
Rhode Island wasn't initially a party to the joint statement, but spokeswoman Amy Kempe said Kilmartin was always a supporter.
"It was a matter of timing and coordination with 16 different offices and getting sign off on the final statement within a very compressed window," she said. "He supported the initiative from the start and received the final statement for sign off late."
Rhode Island reporters found and tweeted the press release before Kilmartin joined, and the matter played out on social media.
.@AGKilmartin not part of this, but his AG counterparts from MA & CT are https://t.co/byBr6NadF0

— Ted Nesi (@TedNesi) January 29, 2017
@bobplain I stand with my fellow AGs in denouncing the Exec Order and will work with them to fight this unconstitutional and immoral order.

— AG Kilmartin (@AGKilmartin) January 29, 2017