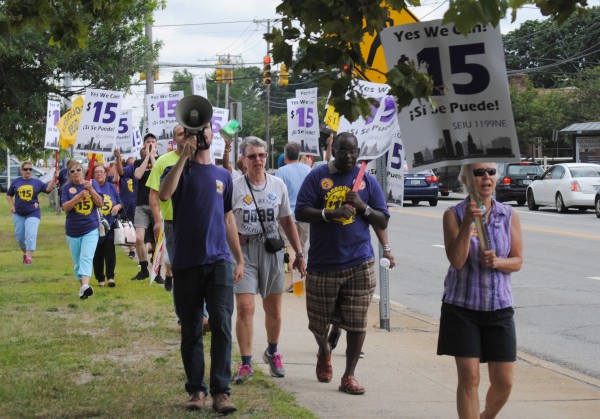 Labor Day starts early this year as SEIU members will host a picket, rally, and march on Thursday in Providence. The group will start at the Charlesgate Nursing Center, where CNAs and other employees are agitating for a new contract, and from there will march to the State House, where they will rally for a $15 an hour minimum wage.
"Every year, it becomes harder to find CNA's and caregivers to care for the elderly and individuals with disabilities because we are not paid a living wage," said Vicky Mitchell, a certified nurse assistant. "This has led to high turnover, hurting the quality of care for the elderly and people with disabilities. If we do not begin to pay a living wage, who will be there for the next generation of residents and clients who need care?"
The picket is part of contract negotiations at Charlesgates and the Fight for $15 effort in Rhode Island, both led by the SEIU 1199NE. Nursing home CNAs in Rhode Island earn about $13 an hour, according to the SEIU, and staff that works with adults with developmental disabilities earns less than $11 an hour.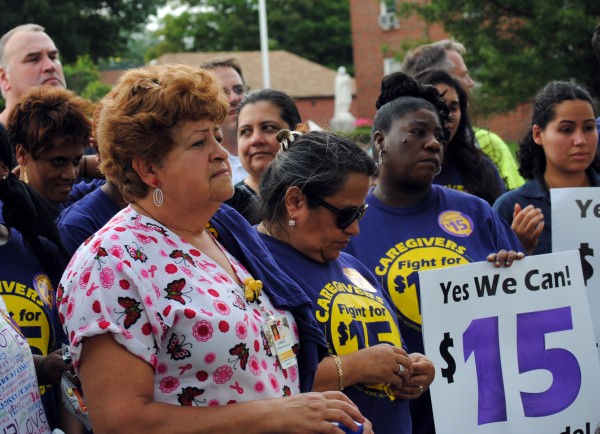 "Retaining and attracting a qualified workforce in our long-term care system is vital to reducing high staff turnover," said SEIU in a press release. "Low staff turnover reduces re-hospitalizations and ensures high quality care for the Medicaid population in long term care.  It is vital for Rhode Island to raise wages soon because in July of 2018 Massachusetts home health aides will be earning a minimum starting rate of $15 per hour."
Rhode Islanders overwhelmingly support a $15 minimum wage for nursing home providers, according to a poll commissioned by the SEIU last year. The Fleming & Associates survey found 76 percent of those polled support a $15 basement wage for those who "care for Rhode Islanders with developmental disabilities or elderly nursing home patients."
The picket begins at 3:15 at Charlesgate Nursing Center (100 Randall St.) in Providence. The group plans to march to the State House.
CNAs kick off Labor Day early with a picket at Charlesgate Nursing Center

,