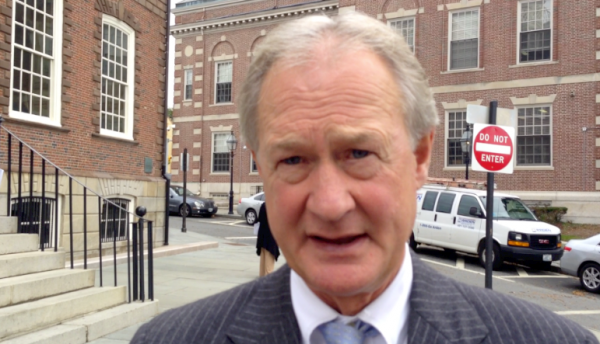 Lincoln Chafee doesn't want to be governor again after all. Instead, he wants his old Senate seat back.
To get it, the Republican-turned-independent-turned Democrat will have to best in a primary Senator Sheldon Whitehouse, the incumbent Democrat who knocked him out of the Senate seat back in 2006 when Chafee was still a Republican.
"I just want to get some reaction first," Chafee, saying he's 90 percent certain he wants to run, told RI Future. "See if the support is there after the dust settles."
The former mayor, senator, and governor held the idea very close, he didn't tell Whitehouse or any Democratic Party officials "I talked with a few of the Sanders supports about it," he said.
Chafee, who most recently ran for president and campaigned for the metric system, thinks Whitehouse has fallen out of touch with the progressive left. He mentioned his support for Hillary Clinton in 2016 and not speaking out against the proposed Burrillville power plant. While he recognizes Whitehouse will likely capture the support of the Rhode Island Democratic Party and other institutional forces, Chafee thinks that could hurt as much as it helps.
"In this day and age that establishment support isn't necessarily an asset," he said, noting both Bernie Sanders and Donald Trump won recent primaries in Rhode Island without traditional institutional support. "The establishment has let us down time and time again."
Chafee doesn't think a Democratic primary will help the Republican candidate, one of whom is his friend Bob Flanders, whom Chafee appointed as the Central Falls receiver. He said he hasn't spoken with Flanders about his potential candidacy either. "Rhode Island is very unlikely to vote for a Republican to go to Congress," said the former Republican senator. Chafee was appointed to the Senate seat when his father died, then won an election in 2002 before losing to Whitehouse in 2006.
"I care about America's place in the world," he said when asked why he wanted to be a senator again. He said he wants to help end torture, capital punishment, drone strikes, and warrantless wiretaps.
On domestic issues, Chafee said he supports Medicare For All, raising the minimum wage, and immigrant rights. He said his record "speaks for itself" when it comes to fighting for a stronger middle class. "I voted against all the Bush tax cuts when I was a senator."
But don't expect Chafee to vote to impeach President Trump if it's proven he colluded with Russia to meddle in the 2016 election. He praised Putin as an effective counterweight to American imperialism and said he doesn't think Russian interference played a meaningful role in the 2016 presidential election.
"I don't believe that has a material effect on people in Wisconsin or Florida or across the country," Chafee said. "We backed a flawed candidate."
When asked if he considers Whitehouse a friend, Chafee described him as an "acquaintance" and added that they worked well together when he was governor. It's possible, Chafee said, that it could prove to be a spirited primary. "I've been in enough campaigns to know sometimes the bare knuckles become evident."
Linc Chafee might primary Sheldon Whitehouse

,