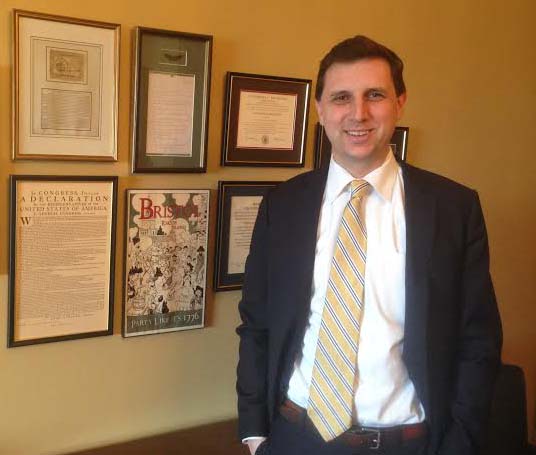 General Treasurer Seth Magaziner began pushing some of the corporations the state invests with to be more socially responsible in April.
Since then the $8 billion pension fund used its proxy voting power to withhold affirmative votes for either excessive executive compensation or lack of racial or gender diversity on boards of directors from 257 corporations – including eBay, Amazon, Netflix, Facebook, Loews, JP Morgan Chase, Fidelity, United Health, General Motors and at least three airlines. The treasurer's office created this dashboard to track the program.
"Our proxy voting program demands gender and racial diversity in the boardroom because a range of backgrounds and experience will help companies succeed and grow in the ever-changing global marketplace," Magaziner told RI Future.
Now the treasurer is stepping up the state's new activist investment strategy to include shareholder resolutions – or requests on behalf of shareholders for more information from the company.
Rhode Island joined onto a shareholder resolutions with Wells Fargo, to "address recent revelations of widespread consumer fraud" earlier this month and will be co-signing resolutions with several with big oil companies "requiring the corporations to disclose their lobbying activities," according to news releases from the treasurer's office.
"As Treasurer, I have a fiduciary responsibility to move the companies in which we invest toward more sustainable business practices that will help them succeed," Magaziner said. And he doesn't think consumer fraud allegations or undisclosed astroturfing are good for business.
"On behalf of Rhode Island taxpayers and members of the State's pension system, we are entitled to know what Wells Fargo allowed to happen and what steps they are taking to ensure that it can never happen again," Magaziner said of the Wells Fargo resolution.
In a letter to Wells Fargo that accompanied the resolution, he wrote, "we are concerned that the conditions that led to such widespread misbehavior across the company have yet to fully be corrected. A full accounting of the root causes of the widespread fraudulent activity at the company and a clear plan for corrective action going forward will go a long way to rebuilding trust and increasing shareholder value."
The formal resolution calls for a report by October, 2017. "Shareholders believe a full accounting of the systemic failures allowing these unethical practices to flourish are critical to rebuilding credibility with all stakeholders and will strengthen risk management systems going forward," it says.
A resolution with ConocoPhillips suggests the oil company is under-reporting to its shareholders the amount it spends to influence public opinion.
"As shareholders, we have a right to know whether energy executives are using our money to influence lawmakers," Magaziner said. "I am particularly concerned that energy companies are using investors' dollars to block policies that will protect coastal areas like Rhode Island from the threat of climate change."
In his letter to ConocoPhillips dated November 22, Magaziner wrote, "The undisclosed use of company assets to influence legislation and regulation may conflict with the interests of shareholders and the long-term position of the company."
The resolution would require ConocoPhillips to report all direct and indirect lobbying and "grassroots communication" and to disclose spending at the national, state and local levels.
Similar shareholder resolutions will be filed with Exxon Mobile, Chevron and Devon Energy before the end of the year. Rhode Island could be the lead filer with Devon Energy. The United Steelworkers and the Philadelphia Public Employees will be lead filers on the others. The ensuing reports could shed light on how much big oil companies spend on astroturfing, or creating advocacy groups that appear to be grassroots efforts but are secretly funded by special interests.
The state pension fund owns about $7.5 million in Wells Fargo stock, or 143,656 shares which are trading at about $52 per share today. It owns about $1.6 million in Conoco Phillips stock, or 35,123 shares trading at about $48 a share. Magaziner said being an active shareholder is a more effective means of affecting positive corporate change than divestment.
Other states also use such "shareholder engagement" strategies to influence corporate policy, Magaziner spokesman Randy Rice said. Massachusetts and California have been active shareholders for many years, and Rice also mentioned New York, Connecticut, Pennsylvania and Oregon. He said the state plans to file more shareholder resolutions in the near future.
"We add another voice on these issues," said Deputy Treasurer of Policy Kelly Rogers, who oversees shareholder engagement activities for the treasurer's office. She half-jokingly called the strategy a "shareholder revolution."