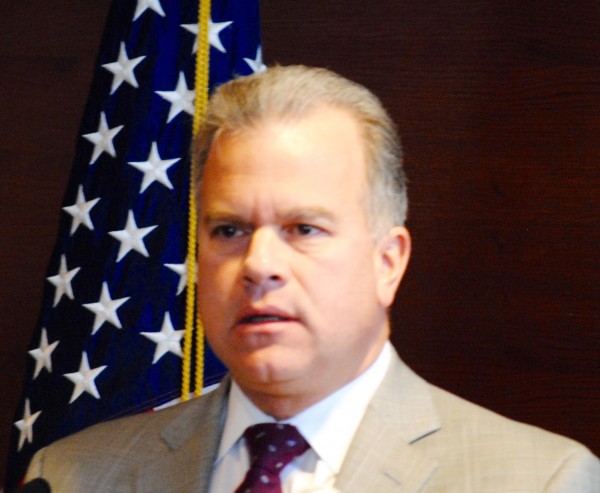 It looks like civil war has broken out in the Rhode Island Democratic Party following House Speaker Nicholas Mattiello's decision to abruptly end the 2017 session and leave the state without a budget. But this is not a fight between the Senate and the House, between left and right, or between progressive and establishment democrats. This is an argument between competence and incompetence.
For a party to control the governorship and the General Assembly, the latter with huge majorities, and not manage to get a budget passed on time, especially in the age of Donald Trump, has to be nothing but serious incompetence. There is only one person who is responsible for this shameful debacle.
Mattiello has not just lost his key measure, the car tax cut, for the time being. He has plunged municipalities into billing chaos over the issue. That too is incompetence. Had he waited just 3 hours last Friday, rather than having a temper tantrum, he would have had his key measure and Rhode Island would have a budget. Ranting at the Senate for a minor, fiscally prudent amendment to protect the state's reserves seems bizarre.
His credibility and judgment are in serious question. He looks like a poor negotiator. He called the Senate's bluff and tried to bully them into accepting all the remaining other business without amendment. The Senate, being a legitimately elected democratic body carried on doing what they were supposed to – giving those bills a final look over, making the changes they felt appropriate.
However, this is not just about what happened on the final day in the General Assembly. It is about the mismanagement of the process of making law. In the first few months of this year, there was plenty of time for thought and deliberation, yet no meaningful bills got through committee and onto the House floor. Compare this to the very end of session with bills ending up batted to and from the two chambers as the clock ticked down in the final rush. This is no way to give laws proper consideration.
The Speaker boasted how there would be no late night debates, but trying to squeeze so much into a short time frame is equally as bad. There were significant measures lost as a result of the Speaker's actions, and constituencies who supported those measures will have been alienated. This was not very smart and may encourage campaigners to become candidates.
Then there is the policy of allowing Bill Lynch, who seems to be acting as the Speaker's mouth-piece, to pour oil on the flames and call progressives 'extremists.' It is hard to believe that this attack comes without Mattiello's blessing and Lynch sounds more like one of Trump's henchmen than a thoughtful Democrat.
In 2016, Bernie Sanders won the Democratic Presidential Primary in Rhode island. Rhode Island saw a swing towards Trump in November and the speaker had to spend truckloads of cash just to fend off a Republican candidate in his own back yard. Half of the progressive challengers in state seats were successful; starting a fight with them is a way to guarantee a lot more contested primaries, especially against the Speaker's devotees. Mattiello and Lynch, in losing key bills and picking fights they don't need to have, are throwing their most loyal followers under the bus. That may be the most incompetent political act of all.
House Speaker Mattiello owns the RI budget fail

,