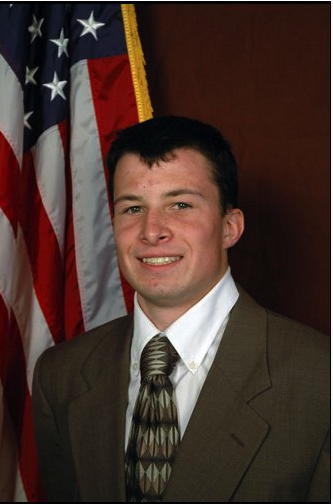 Long before Senator Nick Kettle was arrested for extorting sex from a teen-aged boy interning at the State House, his tenure as an elected official has been punctuated by poor decisions and bad conduct.
Early in his career, the young Republican from Coventry mocked the homeless in an email, and implored his conservative supporters to occupy seats at a committee meeting expressly to keep homeless people from attending a hearing on a bill concerning the state overnight shelter. He apologized, but didn't stay away from dirty politics. His next victim was at least a peer.
In 2014, Kettle was caught creating a fake Facebook page of then Rep. Scott Guthrie, a Coventry Democrat. The same year Russia is said to have launched a social media smear campaign against Americans, Kettle was trying the tactic on local Democrats. Guthrie complained to authorities about the Facebook page that portrayed him as "a slimy, bottom-dwelling parasitic creature" and Coventry police traced the page back to Kettle's home computer. Cyber-harassing charges were considered but not brought against Kettle, but Chuck Newton (a friend and former employer of this reporter) lost his State House job as a paid GOP flak.
Of course, neither of these transgressions compare to what Nick Kettle is now accused of.
Short of murder, I can't think of a more heinous crime than an elected official extorting "sexual penetration" from a child volunteering at a legislative chamber. If true, it shows a sociopath's disregard for both children and the public trust. That's quite a two-fer! Much worse than Gordon Fox living the good life off campaign coffers, or Ray Gallison bilking someone of their inheritance. Which is really too bad, because Rhode Island didn't need anything to overshadow those crimes.
To be sure, Kettle is presumed innocent. He says he is, and I hope so. But he need not be guilty of the crime he is accused of committing to warrant his immediate resignation. If he any kind of sexual contact, conversation, or relationship with an under-aged intern, he needs to resign right away. If he took surreptitious nude photos of his lover and shared them with a friend, he needs to resign. This is beyond obvious. If Kettle isn't mature enough to understand this, his Republican allies need to be able to convince him.
And even if the accusations against him prove untrue, his career in politics is ruined. The sooner he resigns his Senate seat, the sooner he can start trying to put his life back together.