[Note: The No LNG in PVD Coalition sent an open letter to four state agencies today, demanding action on and oversight of National Grid's planned liquefaction facility at Fields Point in the Port of Providence.]
To all whom it should concern,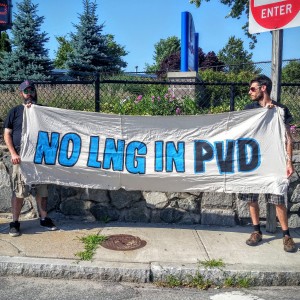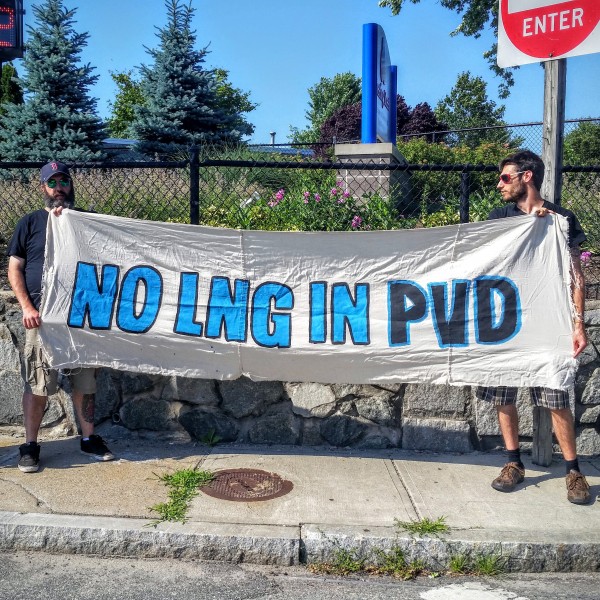 We, impacted residents and organizations in the No LNG in PVD Coalition, along with our allies and supporters including our elected officials, are contacting you about our strong concerns and opposition to National Grid LNG's Fields Point Liquefaction Project.  In particular, we are concerned at the response and follow up to the Public Involvement Plan (PIP) in the Office of Waste Management, as well as the permit applications submitted for this project: Water Quality Certification and RIPDES Construction General Permit Application submitted to your office on September 12th by GZA, on behalf of National Grid LNG (File No. 03.0033554.60), and the General Permit for an Emergency Generator (Minor Air Source Permit), submitted October 18th.
We request that RIDEM deny permits related to the Fields Point Liquefaction Project based on environmental justice concerns.  In reviewing these applications, RIDEM must create the conditions for the meaningful involvement of impacted environmental justice communities in order to give due consideration and investigation of the serious environmental justice issues related to this project.
There is significant community opposition to National Grid's plans for the site, which has resulted in the declared opposition of Mayor Jorge Elorza, a growing number of state legislators, 1225+ individuals, and dozens of community organizations, businesses, and churches.  The attached position paper by the Environmental Justice League of Rhode Island details some but not all of the concerns being raised about this project and activities at the contaminated site.  In August, community members successfully petitioned RIDEM to initiate a Public Involvement Plan for the site, based on regulations under state law, which was approved on September 6th 2016.
National Grid has essentially ignored the request for a PIP, and then argued in a legal memorandum from law firm Hinkley Allen that PIP regulations do not apply since the liquefaction facility is regulated federally by the Federal Energy Regulatory Commission (FERC) which pre-empts state and local laws.  In the same memo, National Grid states that they are no longer planning to abide by plans to operate according to the Short Term Remedial Action Plans (STRAPs) issued by RIDEM and will instead operate under a 2012 Soil Management Plan (SMP) and will only take additional steps to manage soil and groundwater contamination if required by FERC.
At the same time, National Grid has been engaging in construction and soil excavation activities at the site, and has told the public that we have no cause for concern and no justification for public involvement because the work is unrelated to the liquefaction facility.  FERC has not yet issued an environmental document or any certificates for the project, and is not regulating current site activities.  Yet National Grid's contractor for the liquefaction project is actively working at the site and erected a sign for the Fields Point Liquefaction Facility.  There is a concerning lack of clarity on which projects on the site are (directly or indirectly) related to the liquefaction facility, and which regulatory agency has authority.  There has been no documentation submitted to the FERC docket about the Public Involvement Plan request or National Grid's plans to no longer abide by STRAPs from RIDEM, as they had initially stated in their certificate application to FERC.  National Grid is making seemingly contradictory statements to FERC, RIDEM, and the public, all while continuing to conduct activities on the site and defy requests for public involvement or enhanced state regulatory oversight.  The signatories on the Public Involvement Plan petition have not received any follow up communication from either RIDEM or National Grid about the PIP in the two months since the petition was submitted on August 31st, yet construction at the site is ongoing.
Due to special considerations and need for enhanced involvement with Environmental Justice priority areas, the signatories of this letter and those who signed the Public Involvement Plan petition strongly believe that RIDEM needs to act in the full accordance of state law and regulations and enforce the PIP regulations for the entire property, including both the liquefaction facility and the other activities on the site which may or may not be related to the liquefaction project.  We agree with RIDEM's assessment in the October 21st response to National Grid that the 2012 Soil Management Plan is not sufficient to regulate the activities on the site, but request that RIDEM use every means available to enforce full state regulations on the entire property.  Given the current lack of FERC oversight and National Grid's stated plans to no longer abide by STRAPs and instead utilize the insufficient 2012 SMP, RIDEM should take immediate action to revoke or place the current STRAP permits on hold and issue a stop work order until a PIP is in place, or until it has been duly determined by the courts that FERC is pre-empting state regulations and actively regulating activities on the site.  RIDEM also needs to submit all documentation and correspondences related to this site to the FERC docket CP16-121.
Regardless of legal debates over whether FERC approval of the liquefaction project, which has not yet been granted, would preempt state regulatory requirements for a PIP, permit applications to RIDEM under the Clean Air Act and Clean Water Act are required under this FERC administered NEPA review process, and are exempted from federal preemption.  Therefore, in reviewing the Clean Water Act and Clean Air Act permit approvals for the Fields Point Liquefaction Project, RIDEM has full and delegated federal authority as a regulatory agency.  The environmental justice concerns raised in the PIP petition around soil and groundwater contamination absolutely apply to the Clean Water Act and Clean Air permit applications submitted to RIDEM, and need to be considered as such.  It is very concerning that National Grid considers the 2012 Soil Management Plan sufficient to manage the known soil and groundwater contamination at the site.  This lack of concern demonstrated by National Grid, combined with their dismissal of environmental justice issues, should be considered as grounds for denying the permit applications submitted to RIDEM under the Clean Water Act.
We respectfully but forcefully request that RIDEM follow it's own "Policy for Considering Environmental Justice in the Review of Investigation and Remediation of Contaminated Properties".  This policy, available on the RIDEM website[3], outlines a series of steps which RIDEM should be – but is not currently – conducting.  This site and the proposed liquefaction project meet the definition, outlined in the EJ Policy, of "sites with very significant community involvement needs." The attached documents produced by the EPA's EJSCREEN tool [here] [here] shows that the communities impacted by the proposed liquefaction facility are already faced by numerous environmental justice concerns.  The required processes and activities laid out in RIDEM's EJ policy for contaminated properties are not being conducted and there has not been meaningful involvement in decision making at any level. There is an urgent need for RIDEM to be proactive with community engagement, posted notices, information sharing, public meetings, technical assistance, and ensuring meaningful involvement of community participation in decision-making.
It should also be noted that National Grid has repeatedly petitioned regulators in order to avoid public participation and downplay environmental justice concerns.  Repeated requests for public meetings and community involvement have been ignored, including a request by a unanimous resolution of the Providence City Council.  The attached EJLRI comment letter was submitted to the FERC docket on August 11th, protesting National Grid's request to waive public hearings and responding to the faulty environmental justice analysis contained in their application to FERC.
We expect that you, as public servants and regulators, will do everything in your power to serve and protect the public interest and the needs of marginalized environmental justice communities, rather than private corporate interests.
We anticipate your timely response.
Signed,
No LNG in PVD Coalition, representing dozens of organizations, businesses, churches, and numerous impacted residents including Public Involvement Plan petition signatories
Environmental Justice League of Rhode Island
FANG Collective
Rhode Island Sierra Club
American Friends Service Committee – South East New England
Representative Edith Ajello
Representative Joseph Almeida
Representative Chris Blazejewski
Representative Grace Diaz
Representative Aaron Regunberg
Representative Anastasia Williams
Senator Paul Jabour
The letter was addressed to Janet Coit, Director of the Rhode Island Department of Environmental Management (RIDEM); Terry Gray, Associate Director of the Bureau of Environmental Protection; Neal Personeus, Alisa Richardson, Jenna McIntyre, Brian Moore, Angelo Liberti, Sue Kiernan, Elizabeth Scott and Alicia Good of the Office of Water Resources: Water Quality Certifications; and Joe Martella, Kelly Owens, Matthew DeStefano and Leo Hellested, of the Office of Waste Management
No LNG in PVD want RIDEM to deny permits to National Grid's proposed liquefaction facility

,