Ray Gagne of the RI Organizing Project and Bill Flynn from the Senior Agenda Coalition called Governor Gina Raimondo's response to the no-fare bus pass crisis "grossly inadequate" and pledged to "work in the General Assembly to restore the legislative mandate for no-fare passes that worked very well for forty years."
As of February 1st the Rhode Island Public Transit Authority (RIPTA) will eliminate the No Fare Bus Pass Program that currently serves about 9,200 low-income Rhode Islanders living with disabilities and 4,000 low-income senior Rhode Islanders. In place of that program, Governor Raimondo has offered, through the Rhode Island Division of Elderly Affairs (RIDEA) and the Office of Veterans Affairs (RIOVA), a "pilot program" of 10 one-way free passes per month for about 2,000 seniors and 10 one-way free passes for about 1,000 veterans. According to RIPTA, currently about 4,000  seniors use no-fare passes, and their average monthly usage is 31 one-way trips.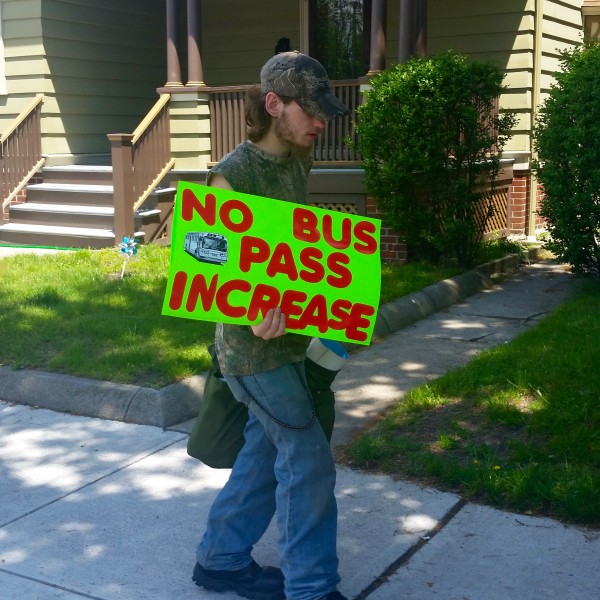 This new program eliminates no-fare passes for low-income persons living with disabilities unless they are seniors or veterans. These riders on average used the passes for 39 one-way trips per month. According to Gagne and Flynn, "Persons in addiction recovery programs in particular, many of whom use the bus to reach their daily meetings, have shared their stories that, as one woman put 'my meetings are my medicine…if I can't get to them, I'm much more likely to relapse.'"
Gagne and Flynn believe that eliminating the No Fare Bus Pass Program is a short-sighted decision that will have dire consequences for thousands of vulnerable people and for the state's Medicaid budget in the long term. "In a time when policy experts, including the Governor, call for 'evidence-based programs,' this action flies in the face of a growing body of research-based evidence that long-term isolation is the greatest single risk factor negatively affecting seniors' health and longevity," say Gagne and Flynn.
The RI Organizing Project, the Senior Agenda Coalition of RI, the Economic Progress Institute, the RI Coalition for the Homeless, the RI Interfaith Coalition to Reduce Poverty, the Mental Health Recovery Coalition and the RIPTA Riders Alliance will continue the fight to restore the No-Fare Bus Passes, say Gagne and Flynn. T"here is too much at stake for thousands of extremely vulnerable people. Although over 2,000 postcards and hundreds of phone calls to the Governor have not achieved that, we thank everyone who expressed that support. We promise to work in the General Assembly to restore the legislative mandate for no-fare passes that worked very well for forty years."
Raimondo response to no-fare bus pass crisis 'grossly inadequate'

,