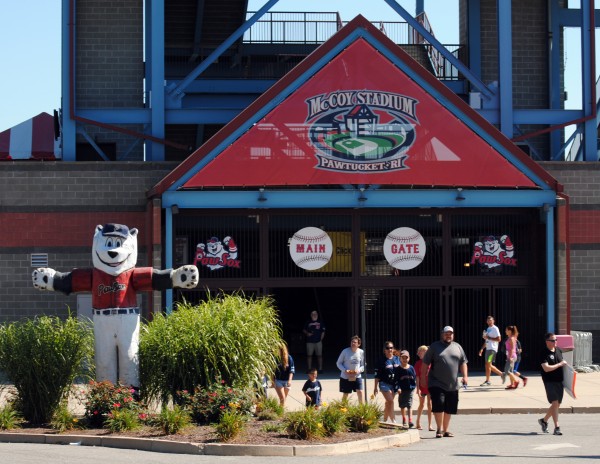 The owners of the PawSox want to give the people of Pawtucket a scaled-down copy of Fenway because they don't seem to realize that locals already know and love McCoy.
The new stadium will be more expensive than renovating McCoy – even according to the study commissioned by the PawSox owners that outlandishly inflated cost estimates for the renovation job in order to make the case against staying.
Renovating McCoy is cheaper even before a penny of money is spent to buy the Apex site (for which the current owners are asking $20 million) and the millions more in demolition and remediation costs that will be inevitable required before any steps can be taken to build the new stadium.
Instead of staying at McCoy, the new owners have made up their minds that they are going to leave.  This would be more of a threat if they had any concrete offers from anyone actually interested in trying to lure them away.
Their need to save face is understandable. The previous attempts to move the team to Providence ended in embarrassing failure due to overwhelming public opposition – even after the ownership group moderated their outrageous demands for tax money.
Their current proposal apparently hopes to overcome that opposition by keeping them in Pawtucket and moving the team to a new stadium to be built on the site of the Apex.
On the surface it sounds promising – the PawSox would stay in Pawtucket, a new stadium would generate jobs and perhaps even help to revitalize a downtown badly in need of same.
The problem is that once anyone looks past the thin veneer of plausibility, the latest plan is even more ridiculous that the previous debacle.
First, let's remember that McCoy Stadium is a professional baseball icon.  It is to AAA what Fenway is to MLB.  Generations of people from all over New England have been bringing their families to McCoy and the taxpayers of Rhode Island have invested tens of millions of dollars in building and renovating McCoy over its lifetime.
This new group of owners not only expect Rhode Islanders to turn their back on our historic ballpark (and the money we've spent on it) but to be happy about getting a cheap, miniature copy of Fenway in its place – and to be happy about paying for the privilege with higher taxes for everyone and higher ticket prices for those who actually go to the new park.
And that's also before the inevitable traffic nightmares that will occur and the equally inevitable demands for additional tax expenditures to improve public transportation, roads and freeway access that will benefit no one but the owners of the team.
The owners may say that this project will pay for itself.   Don't be fooled.  If that were really the case, they wouldn't be asking Rhode Island taxpayers for a handout.  It isn't like they are strapped for cash, the collective net worth of the ownership group is, according to Forbes Magazine, in excess of $8 billion and possibly as high as $10 billion.
It is time for the people of Rhode Island to stand up for their heritage.  Why would we want a pale replica of Fenway when we've got the real McCoy?
A Fenway replica or the real McCoy?

,