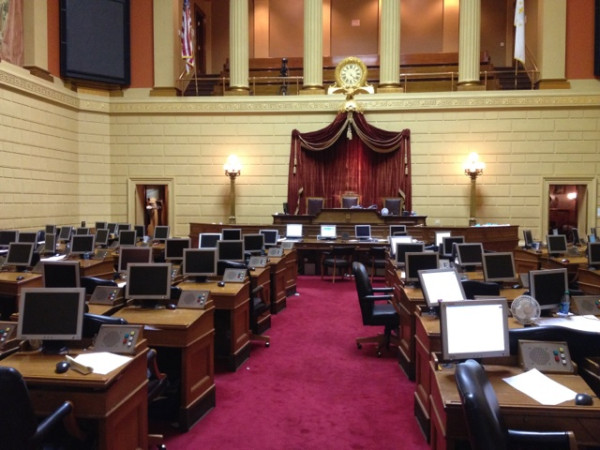 This weekend RI Future reported on a leadership-backed change to the RI House rules that would have made it nearly impossible for ordinary lawmakers to amend the leadership-backed budget in future.  On Sunday afternoon, Larry Berman, spokesman for House Speaker Nicholas Mattiello, walked back this change, saying that it was an inadvertent drafting error.  Here is his statement:
"This was simply a drafting error and it will be fixed when the bill is discussed by the House Rules Committee on Wednesday. There will be no change to the rules governing amendments in the budget.

"In attempting to draft a rule for members who recuse themselves in committee, legal counsel inadvertently placed the words "in committee" in the wrong spot.  Once he realized the mistake, he moved those words to where they were intended, but forgot to remove them from this rule in question. That will be explained and taken out at the hearing.

"On a side note, there is a separate rule for floor amendments that has not been amended. There was no intent to remove anyone's ability to offer a floor amendment on the budget or any other bill. It was an innocent drafting error to address members who recuse themselves in committee (which is two pages previous — Rule 12 (l)."
It's a good sign that this rule change was taken back.  Good-government groups and people across the political spectrum were ready to oppose this rule change if House leadership had tried to move forward with it.
I'm fairly skeptical about how Mattiello's spokesman says the change to budget amendment rules  was just an inadvertent error.  In the H5293 bill that proposes changes to House rules, the controversial part was a change that made it nearly impossible to amend the budget, and that change consisted of simply adding the words "in committee" at the end of a rule.  Mattiello's spokesman says that the author of H5293 meant to add the phrase "in committee" to a different rule but inadvertently added it to the rule on budget amendments as well, so that "in committee" was mistakenly added in two places when it was meant to be added in just one spot.  But if you look at H5293, the only change to House rules that adds the phrase "in committee" is in the part dealing with budget amendments, so I don't see how the error could have happened the way Mattiello's spokesman says.  I suppose some media sites in Rhode Island might just publish this official account without questioning anything, but I feel I should mention that there seems to be a hole in it.  The other rule change that the spokesman mentions, rule 12(l), is a new rule which talks about people who "cast a vote on legislation before the committee", but it doesn't really use the phrase "in committee" like the controversial budget-amendment rule change does, so the story of a typo doesn't make sense.  And even if you ignore the difference between "before the committee" and "in committee", it's hard to see how a phrase that was intended to be put in the middle of one sentence could end up being mistakenly added at the end of a different paragraph two pages later.
Mattiello's spokesman also promises that an explanation of what happened will be given at the House Rules Committee hearing Wednesday, so maybe we'll find out more then.
RI House leadership takes back 'no amend' rule, says unintentional

,