Real leadership adapts to change. Rhode Island needs real leadership. The statement that Governor Gina Raimondo put out in reaction to Donald Trump's presidential victory is a failure of vision and shows an inability to adapt to the changing conditions of the political landscape.
"If generals do not know how to adapt advantageously, even if they know the lay of the land they cannot take advantage of it."
–Sun Tzu's Art of War, translated by Thomas Cleary
Raimondo wrote, "The long campaign is over and now it is time to begin the necessary work to unite our nation. My top priority is positioning Rhode Island for success. The people of Rhode Island expect and deserve that we continue working together to create jobs, grow our economy and move our state and our nation forward."
There is no sense of moral leadership in Raimondo's statement. No sense that she may move, by necessity, to protect the rights of immigrants, refugees, Muslims, women, people of color, the LGBTQ community or any of the other countless groups of people targeted by Trump over the course of his campaign.
Maybe we should have expected this. After all, shortly after becoming governor, Raimondo broke her promise to grant driver's licenses to undocumented workers by executive order, instead passing the buck to the General Assembly, where Speaker Nicholas Mattiello proudly blocked legislation two years running. Mattiello actually mailed a flyer celebrating his racism.
Raimondo said nothing.
"If they rule armies without knowing the arts of complete adaptivity, even if they know what there is to gain, they cannot get people to work for them."
-Sun Tzu's Art of War, translated by Thomas Cleary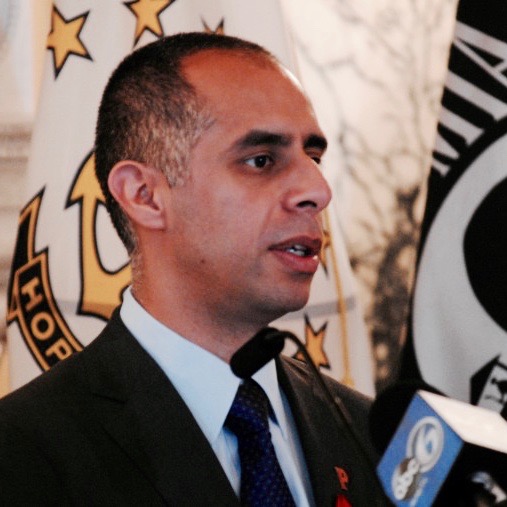 Of all the Rhode Island elected officials who wrote statements on the presidential election, only Providence Mayor Jorge Elorza came close to understanding the enormity of what happened on Tuesday. "While I am disappointed about last night's results," wrote Elorza, "it has only reinforced my resolve to work collaboratively to put our city, our state and our country on the right path for all of our citizens."
In his statement the mayor demonstrates an understanding that the ground has shifted and that the fight is not his alone. He proudly represents a city, and only by working collaboratively, getting all the power of the city and its peoples behind him, can Elorza, and the people of Providence, be successful.
"These results, and the current state of our nation, present a new opportunity and responsibility for cities to play a much larger role in shaping our democracy. As the mayor of Providence, I commit to doubling down on my efforts to advance a society that is inclusive, compassionate, and forward-thinking. I take this responsibility seriously and will address the challenges we face head-on and hope that I can count on our City and the entire State of Rhode Island to do the same."
Elorza is calling for inclusion, compassion and forward thinking in his statement, three qualities sorely lacking in our president elect. Elorza showed that he is prepared to fight for our values, not just our jobs or his political gain. Elorza, alone of all the high ranking politicians in Rhode Island, nailed it. And maybe, just maybe, he could have issued an even more strongly worded statement if he had the financial firepower of someplace like California, the eighth largest economy on the plant, backing him up.
The California Senate President pro Tempore Kevin de León and California Assembly Speaker Anthony Rendon released the following statement on the results of the President election. California, like Rhode Island, rejected Trump. California, unlike Rhode Island, is taking pride in that fact.
Today, we woke up feeling like strangers in a foreign land, because yesterday Americans expressed their views on a pluralistic and democratic society that are clearly inconsistent with the values of the people of California.

"We have never been more proud to be Californians.

"By a margin in the millions, Californians overwhelmingly rejected politics fueled by resentment, bigotry, and misogyny.

"The largest state of the union and the strongest driver of our nation's economy has shown it has its surest conscience as well.

"California is – and must always be – a refuge of justice and opportunity for people of all walks, talks, ages and aspirations – regardless of how you look, where you live, what language you speak, or who you love.

"California has long set an example for other states to follow. And California will defend its people and our progress. We are not going to allow one election to reverse generations of progress at the height of our historic diversity, scientific advancement, economic output, and sense of global responsibility.

"We will be reaching out to federal, state and local officials to evaluate how a Trump Presidency will potentially impact federal funding of ongoing state programs, job-creating investments reliant on foreign trade, and federal enforcement of laws affecting the rights of people living in our state. We will maximize the time during the presidential transition to defend our accomplishments using every tool at our disposal.

"While Donald Trump may have won the presidency, he hasn't changed our values. America is greater than any one man or party. We will not be dragged back into the past. We will lead the resistance to any effort that would shred our social fabric or our Constitution.

"California was not a part of this nation when its history began, but we are clearly now the keeper of its future."
It is all but impossible to imagine Speaker Nicholas Mattiello of Senate President M Teresa Paiva-Weed issuing such a statement. Such a statement takes courage. Such a statement makes a commitment to the people, all the people, regardless of race, religion, immigration status or any other marker of identity.
Such a statement is simply beyond the abilities of the current political leadership in Rhode Island.
Except maybe for Elorza.
"… the ability to gain victory by changing and adapting according to the opponent is called genius."
-Sun Tzu's Art of War, translated by Thomas Cleary
Rhode Island needs leadership that can adapt to change

,