Browse:
Home
/
Young Voices
By Steve Ahlquist on May 11, 2017
"I want to go to college, but low-income students like me have to rely on student loans that don't even cover the full price," said Jayleen Salcedo, a senior at Classical High School and a member of the Providence Student Union (PSU).
Posted in Activism, Education, Featured, Inequality, Photos, Poverty, Rhode Island, State House, Video, Women, Youth | Tagged AFT, arole Marshall, blackstone academy, Classical High School, Community College of Rhode Island, Gina Raimondo, Jayleen Salcedo, providence public schools, providence student union, psu, Quenby Hughes, Rhode Island College, Rhode Island Promise, Rhode Island State Council of Churches, Rhode Island State House, ric, RIC Adjuncts Union, RIC Professional Staff Association, RIC/AFT Faculty Union, university of rhode island, URI, Young Voices | Leave a response
By Wendy Grossman on January 31, 2017
On Friday, January 20, 2017, at precisely 11:08 a.m., a thousand students from over eight public, charter, and private high-schools in Providence, Rhode Island, walked out of their classrooms, and poured into the streets for a unified march to the State House.
Posted in Featured | Tagged Alvarez High School, Central High School, Classical High School, New Urban Arts, providence student union, Providence Student Union Walk Out, PrSYM, RI Future, Steve Ahlquist, Young Voices, Youth in Action, Youth Pride, Zack Mezera | Leave a response
By ACLU of RI on February 24, 2016
Citing widespread confusion about the potential use of PARCC exam results in a punitive manner against students in the near future, a coalition of organizations has filed an open records request with every school district in the state to obtain information about any plans they have to use the test for grading or graduation purposes before 2021…
Posted in Education | Tagged ACLU of Rhode Island, Coalition to Defend Public Education, Debbie Flitman, Department of Education, PARCC, providence student union, RI Disability Law Center, Steven Brown, Young Voices, Youth Pride Inc | 2 Responses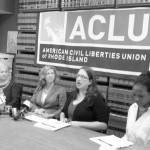 By Steve Ahlquist on May 5, 2015
Black students were suspended from school more than twice as often as would be expected based on their representation in the student body population. Hispanic students were suspended more than one-and-a-half times as often as expected, the highest rate in a decade, while white students experienced a ten-year low.
Posted in Civil Rights, Criminal Justice, Featured, Race & Racism, Rhode Island, Youth | Tagged American Friends Service Committee, Donald Anderson, Hillary Davis, Jordan Seaberry, Martha Yaeger, RI ACLU, RI Kids Count, school suspensions, school to prison, Univocal Legislative Minority Advisory Commission, Young Voices | Leave a response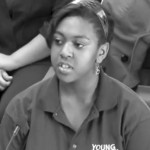 By Steve Ahlquist on March 16, 2015
"When kids see that their punishment does no correlate with their offense, they become angry, knowing that kids who do egregious acts are held to the same punishment. It is simply unfair. The fact is that schools are not following the law and are finding loopholes around it."
Posted in Civil Rights, Education, Featured, Race & Racism, State House, Video, Youth | Tagged grace diaz, Hilary Davis, John Lombardi, Joseph McNamara, RI ACLU, school to prison, Young Voices | Leave a response
By Brian Hull on October 28, 2011
Transportation is under siege in Rhode Island.  Funding for RIPTA is limited and many are outraged at proposed route and service cuts. Providence youth have experienced barriers to affordable transportation since 2009 when state legislation decreased funding for the state's health insurance plans; a source of most school bus passes.  Equipped with extensive research and passion for […]
Posted in News | Tagged DARE, Providence Schools, PrYSM, RIPTA, Transportation, Young Voices, Youth, Youth in Action | Leave a response