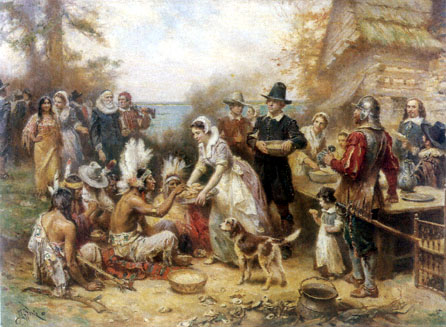 Thanksgiving was harder this year. It's always hard for me. I am the relative who never gets to finish her story – or start one at all. I am the relative who is more comfortable at the kids' table and was relegated there for 40 years. I am the relative who cringes at every snide remark, bitchy glance, pleasantly hostile request, never-ending focus on people's weight, constant interruption by the relative, or two, who is louder and more self-important. Or maybe just more capable of being heard. And never quite feels at home even after making the five-hour trek from Rhode Island to the house I grew up in on the Jersey Shore.
But it was harder this year. My grandfather died six years ago at 96 and I didn't know until he was well into his nineties that our family had a secret. In order to keep the peace and keep his relationship with his three daughters and their children and grandchildren, we never talked about politics. When I realized this, I was surprised I never noticed the glaring omission of topics. But my admirably liberal grandfather could not bear to listen to any conversation in which his Republican daughter and her husband might say something that would set off his two Democrat daughters, or himself. So we never talked about politics. And this Thanksgiving was no different.
But it was harder this year. I missed him more than I have in a long time because I imagine that this election season may have brought us closer. A year before he died I learned more about him than I'd ever known when he couldn't stop gushing over Michelle Obama's inaugural ball gowns. Out of earshot of other relatives, he told me how glad he was to have lived to see a black president of the United States. The "No Blacks" signs hit him just as hard as the "No Jews" signs he saw in the South during basic training before he was sent off to fight in World War II because he pissed off his estranged wife, my mother's mother. But that's a story for another day. I could tell that he was proud of his country but he was self-important too. At the holiday gathering before the 2008 inauguration, he asked me to write Michelle a letter requesting that Barack say "Happy Birthday" to him during his speech. My grandfather was born on January 20th.
I didn't know it was going to be harder this year. I figured we'd be good at avoiding conversations of substance and were old hands at completely obfuscating family pain in the name of mealtime harmony. No one talks about my sister who never comes, or my uncle who died, or my husband who rarely joins me in my frequent visits back home. No one mentions my cousin's divorce and her partner's abandonment of their child. No one mentions her brother who has been engaged more times than we can count and recently converted to something other than Judaism. And through my many years of illness, no one ever asked me a single question beyond a passing "How are you doing?" barely waiting for the answer.
But it was harder this year. Because I am in pain over the election and my parents are physically sickened by it and my brother rapid fires his disbelief with meme after cartoon after meme. And we couldn't talk about it. My mother unnecessarily reminded my brother and I of this. She admonished my father as well but he nearly brought the whole thing crashing down when he began one of his head of the table anecdotes by waving at the sister and brother-in- law sitting next to him and calling them "you people." I nearly jumped out of my skin. "Dad! No! Stop! No! Don't!" And he stopped and he didn't and the meal went on.
It got a bit easier – and a bit strange – when my brother began talking about late night television and we learned that my witty and sarcastic cousin had no idea who Jon Stewart is. My brother meanwhile is sharing that his fiancé is hoping to have their wedding on the grounds of the Stewart's new farm sanctuary two towns over from my parents' house. And then it got stranger when my cousin's mother, the daughter whose political leanings my grandfather could not bear, starts gushing about Trevor Noah. And – to my mother and brother's visible shock – Samantha Bee.
And then it got hard again – and really strange – when the liberal aunt cornered me in the kitchen explaining in no uncertain terms that she will not participate if we go around the table to say what we are thankful for. Apparently the risk of this happening is the reason her two grown children no longer join us. And this is okay with her because she, too, hates the ritual, even though most years we forget to do it anyway. I escaped and spent the rest of the evening trying to decide if it was funny or just really, really sad.
And then it got better. As my mother and two aunts laughed their nearly identical laughs at something or another. And then a lot better when my aunt, whose politics remained pleasantly unspoken, noticed the small canvas of a gratitude wheel on the table. I made it last year for my mother after she mass forwarded it from the Muslim news website that she follows – pun intended – religiously. And she started playing a game where she closed her eyes and ran her finger around and around the wheel, opening them to share what the fates had selected as her particular counted blessing. It landed on "Sisters." My grandfather would have smiled. A big, grateful, smile.