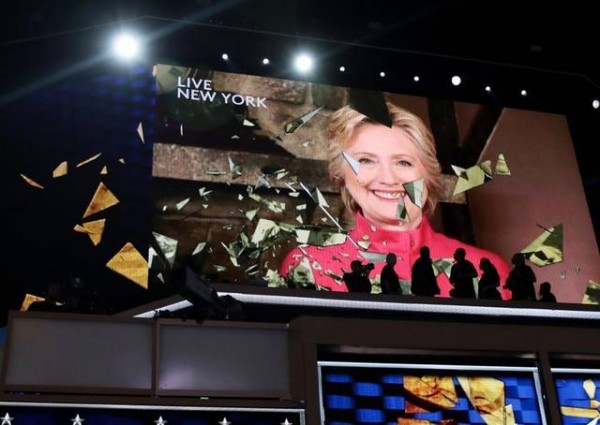 What happened on Tuesday was a total repudiation of the Democratic National Committee and the party. The problems have deep roots.  First and foremost, the leadership that started with Tim Kaine, continued with Debbie Wasserman Schultz, and ended with Donna Brazile.
It was a foregone conclusion that Clinton would be the nominee.  No other candidate was given a chance. The insurgency of the Bernie Sanders campaign and the nationwide movement he inspired were an unwelcome distraction in the election process leading up to the inauguration of the first female President.
Clinton, for the DNC was the perfect candidate.  She was a former Senator, Secretary of State and First Lady.  The Republican selection was weak at best and embarrassing at worst.  And the nominee of Donald Trump was most likely considered the best case scenario for the opponent.  After all, how on earth could she lose to that media-hogging pompous ass.  Trump came across as arrogant, divisive, and more like a shock jock than a candidate to be the leader of the free world.  He belittled women, minorities, people with disabilities, Muslims, and others.  His speeches were toxic and bordered on fascism.  How could he possibly win any campaign–least of all President?
He won due to the epic failure of the Democratic Party. The Democrats stuck with the least liked candidate in decades.  They refused to see the writing on the wall.  The Democrats did not embrace the Bernie Sanders followers.  Instead of Clinton herself working hard to provide the uniting message to welcome the left into the campaign she and the party marginalized them. Where was Clinton when the left needed to hear from her regarding Standing Rock?  Where was Clinton's voice on the mega-mergers of Bayer and Monsanto then AT&T and Time Warner?  Where was her voice to prove to us that she really wanted to separate her Wall Street past and show the masses that she was with the 99%?  Where was her voice?  It was absent!  Her message to the Native American water protectors was dismissive and marginalized their struggle.  She had nothing to say about the mergers.  Bernie her surrogate for the left was the only voice we the people heard and it simply was not enough.  Most importantly, where was she on the core issues that matter to the sadly shrinking American middle class?  
While Trump was vigorously campaigning for the white popular vote of the disenfranchised and frustrated heartland citizens – Clinton was courting the rich at exclusive fundraisers. Trump was becoming the hero of rural white America.  He resonated with them. His message was listened to and consumed by those who heard it. "Make America Great Again"  became the rallying cry of those that felt left out of the process. It was clear, concise and something to vote for, and it worked.
Clinton should have spoken to the middle class, to the people who abandoned her for Trump.  She should have run against Trump as what he clearly is, was, and always will be–a rich man who lies through his teeth when he says he cares about the middle class.  She barely touched those themes.  Obama won middle class voters because he ran against Romney as a champion of the middle class fighting against a rich man who only cares about rich men.  Bernie would have doubled down on that message.  And it would have worked.  Instead, Hillary courted the rich.  Sure, she won East Greenwich, which Obama lost, and she beat Obama in Barrington.  But in middle class communities all across Rhode Island?  In Warwick, Johnston, in Richmond, in all of NW RI and in so many other towns, her numbers cratered.  And in Wisconsin, Pennsylvania, and Michigan, we will not speak of what happened.
While Trump signs were popping up left and right in neighbors' yards, no one could find one Clinton lawn sign if they were paid too.  White working class America was  rejuvenated, energized and empowered.  They had their candidate, and they proudly voted for him.
While established Democrats loved the First Woman President mantra and "Stronger Together" that messaging did not move democrats that wanted a popular Senator from Vermont to be their nominee.  The minority community also needed more than Trump is evil and vote against him or else and the numbers prove it.
In 2008, Barack Obama received  69,498,516 votes – in 2016 Clinton amassed just  59,923,027- 9.5 million fewer votes.  While McCain received 59,948,323 in 2012- Trump received the almost identical amount of votes 59,690,096.  The democrats were convinced that record number of voters would be calling for the first women President, clearly, that did not happen.
Secretary Clinton was one of the most qualified, experienced and capable Presidential candidates in recent memory, but her 30-year history came with unwelcome distractions including The Clinton Foundation and those "Damn emails".  Hillary left millions wanting more.  The Democratic Party did not do their job in promoting their candidate and sending out the unifying message that "we" so desperately needed to hear. Bernie as Clinton's surrogate couldn't either, although he gave it his all.
In the end, while thousands of people proudly displayed their Trump signs in Rhode Island and elsewhere, Clinton supporters who were not party members, were isolated, non-energized and voting against a candidate as opposed to enthusiastically voting in favor of one.  The messaging of voting against Trump failed.  People just didn't vote!
The fallout was significant.  Not only did the democrats lose the White House – they lost the Senate and plenty of great candidates lost their races, including Russ Feingold from Wisconsin.   We now have Trump and a Congress controlled by republicans.
Voters are already playing the blame game.  That 1% Jill Stein got – or those rogue Bernie Sanders sore losers who wrote him in are to blame for the embarrassing failure of the DNC and Party Democrats across the country.   Instead, have Clinton look in the mirror!  The reflection of Clinton should reflect on the entire party and how it is in shambles and needs completely new leadership and a new direction- if it is not too late already.
Lauren Niedel-Gresh
District 40 Democratic Committeewoman – and Proud Bernie Delegate
The colossal failure of the DNC and the Clinton machine

,