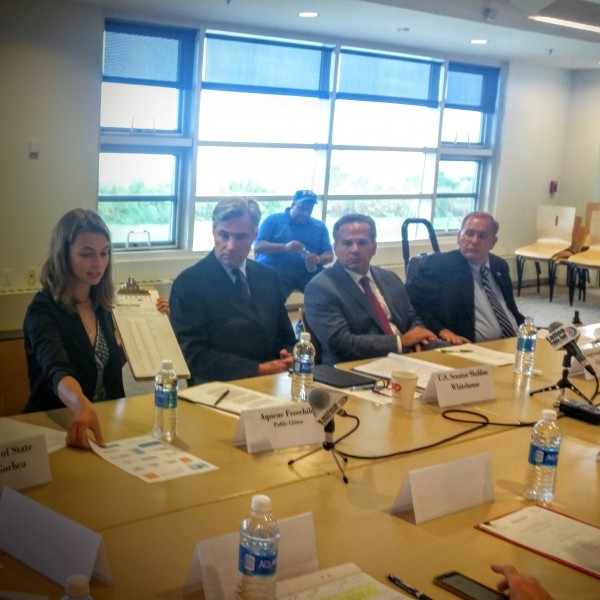 Saying that fighting dark money in politics is his "patriotic duty," Senator Sheldon Whitehouse sat next to Congressmembers David Cicilline and James Langevin in a "roundtable discussion" to highlight his work on the DISCLOSE Act, introduced by the Senator in June, which would "require disclosure of donations greater than $10,000 to organizations spending at least $10,000 in an election."
"The American people want and deserve accountability in their elections," said Whitehouse, "Unchecked secret corporate spending has tipped the scales of power away from ordinary Americans and in favor of big special interests. If Congress is going to make meaningful progress in the months and years ahead on important issues that matter to Rhode Islanders like addressing climate change, reforming our broken campaign finance system is the first step."
Whitehouse's DISCLOSE Act, which has been supported by Langevin and Cicilline in the U.S. House of Representatives, is part of the "We the People" legislative package to deal with secret corporate political spending, lobbyist influence, the revolving door, and other facets of the campaign finance system. Whitehouse touted the suite of legislation as a solution to the corporate spending blocking meaningful legislative action on issues like ensuring economic security for the middle class and addressing climate change.
It seems that Whitehouse mentioned climate change and chose Save the Bay's headquarters in Providence as the location of his round table discussion because, as the Senator said in response to Meghan Kallman, chair of the RI Sierra Club, "I think it's pretty safe to say, that at a national level, the climate battle is the campaign finance battle. They're totally married together into one thing."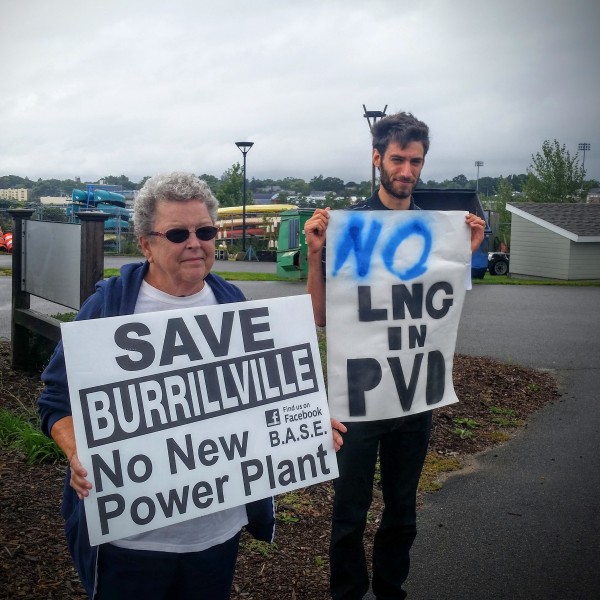 Notably, there were protesters outside Save the Bay holding signs reminding their elected representatives about both Invenergy's proposed $700 million fracked gas and diesel oil burning power plant and National Grid's proposed LNG liquefaction facility for Fields Point in the Port of Providence, a stone's throw away. They were there to remind elected officials that their jobs in Washington do not absolve them from taking positions on local issues. None of the elected leaders in the room, aside from State Senator Juan Pichardo, who has publicly taken a stand against the LNG plant in Providence, have thrown their considerable political weight behind the opposition to these projects.
"This is a national package, [but] many many many issues are local," said Kallman, "We're watching Dakota. We're watching Burrillville. We're watching Fields Point… We have something of a disconnect between what's happening on the national level and where the front line battles are being fought."
The influence of corporate spending on elections since the 2010 Citizens United decision by the Supreme Court is a major concern to all who attended the event. Citizens United unleashed a previously restricted torrent of special interest money into the political system.  More than $1.5 billion in unlimited contributions, including more than $500 million in secret contributions, have been poured into federal elections since the decision was issued.
"It didn't take long after Citizens United for secret money has find its way to the shores of Rhode Island," said John Marion, Executive Director of Common Cause Rhode Island. "We know that Rhode Islanders don't want unlimited undisclosed money in our elections. We are fortunate to have a congressional delegation that has taken this issue seriously and has offered real solutions for the problems posed by big money in our politics."
"Senator Whitehouse is a national leader fighting to make our elections and government work for everyday people again through the We the People Act," said Aquene Freechild, campaign co-director of Public Citizen's Democracy Is For People Campaign. "He's pushing the current congressional majority to snap out of their campaign cash-induced paralysis and stand up to the tiny but influential donor class: by overturning Citizens United, disclosing all spending in elections, and slamming shut the revolving door that transforms public servants into corporate shills."
Also in attendance at the roundtable discussion were RI Secretary of State Nellie Gorbea, RI State Representative Art Handy, state director of Clean Water Action Jonathan Berard, Save the Bay's Topher Hamblett and Dean Michael J. Yelnosky of the Roger Williams University School of Law. You can watch the rest of the video from the event below.