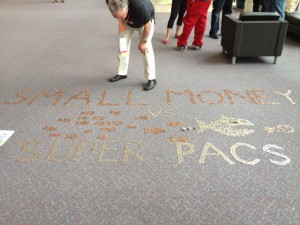 Preparing for my Netroots panel discussion on revitalizing local political blogs, I was corrected by moderator Andrew Villeneuve of the Northwest Progressive Institute when I introduced myself as having come to the blogosphere from the mainstream media.
"You mean the traditional media," he interrupted. "We are the mainstream media."
While it's a debatable claim, it was certainly one of the underlining theme of Netroots Nation, the annual meeting of the progressive movement that took over Providence for the past few days. The idea is that lefty activists and journalists already enjoy a sizable slice of the media market, as well as a mandate from the American people, and they can be used to overcome the overwhelming advantage government-shrinking, big monied interests have in the political process.
"The big corporations want to take over social security, medicare, even our elections. The Republicans want to hep them, and they are hoping that with enough spin and propaganda they can get away with it," Rhode Island's own Senator Sheldon Whitehouse said in a keynote address on the opening night.
"But you," he continued, "the online opinion makers who make Netroots Nation so great – with your blogs and your email lists and your Facebook pages and your tweets and and your videos – you can fight back against this tide of money, of spin, of extremism. You can help make sure that this remains our great democracy of, by and for the people."
Sheldon, as he is known to his legions of fans on the far left, is a star in the Netroots community, as he is to liberal Rhode Islanders. He's not only an up-and-comer in the Senate, he's also one of the most solidly progressive politicians in Washington D.C. In a subsequent speech on Saturday he dubbed Roger Williams, Rhode Island's founder who came here seeking religious liberty, the nation's first progressive.
He was very accessible throughout the event, and even through an open-bar party with Providence Mayor Angel Taveras. Netroots officials and attendees were impressed by the Ocean State's hospitality and downtown's amenities. It was one of the many open bar parties in downtown Providence during Netroots.
But the real action happens during the day, when bloggers, congressional staffers and community activists hustled around the Convention Center, heading off to the many different panel discussions. Everything from building a better online community and using new media tools, to progressive messaging, to specific public policy discussions – income inequality, tax fairness, corporate greed, collective bargaining and public education were all popular and insightful topics.
Highlights included powerful speeches from progressive rock star Elizabeth Warren, who is of course running for the US Senate in Massachusetts, and up-and-coming progressive rock star Darcy Burner, who is running to represent Washington state in the House.
"This is a war we can win," Burner told an inspired lunchtime crowd on Friday.
Both Burner and Warren, in their keynote titled 'The War on (and for) Women" talked about how the female vote will prove to be among the most critical this November. So did state Rep. Teresa Tanzi, a staunch progressive from Wakefield, who gave a keynote address on the same stage as did Whitehouse, Warren and Burner – not to mention Paul Krugman, Van Jones, Mayor Angel Taveras and Congressman David Cicilline.
Gov. Linc Chafee was noticeably absent and Congressman Jim Langevin was noticeably present. Joy Fox, Gina Raimondo's communications director, was seen at a few panels and Anthony Gemma had staffers at several. Gemma rode the progressive party circuit hard throughout the weekend.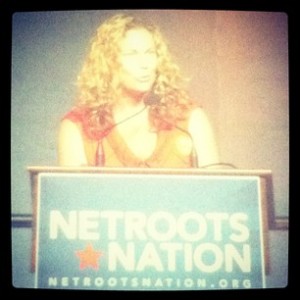 "You need to join me," said Tanzi, imploring more people to run for office, though I don't imagine she was talking to Anthony Gemma per say. She predicted 2012 will be the year of the progressive woman. "Take the next step, run for office. Yes, you. The one with the family, the job, the crushing load of schoolwork, the fuller than full plate. You! Anything less than full participation will not be enough."
"I need you standing beside me when the doors close to the public, and the negotiations begin," she said. "I need you sitting beside me, after the debate ends, the votes are taken and a proposal becomes law. I need your voice to be the voice of all the women, families and children who are voiceless and invisible."
Tanzi proved why she needs progressive allies in the State House on Thursday, just two nights earlier. When Capitol Police removed Occupy Providence activists from the gallery for mic checking on tax equity, Tanzi was alone in sticking up for the protesters' rights.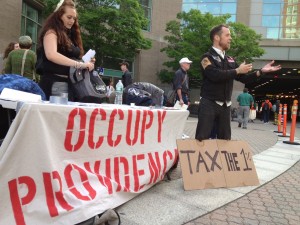 Willingly or not, Netroots may have reinvigorated Occupy Providence. Not only did they sleep out on the sidewalk next to the Providence Journal building all weekend, but five activists were also detained in the Providence Place Mall. They weren't arrested, but they were handcuffed and trespassed from the shopping center for one year. One activist went to hospital because he sustained what he called a sprained shoulder.
Netroots certainly didn't reinvigorate the progressive base for President Obama – who will need us if he is to prevail against the right, and its near monopoly of money in politics.
In past years, the White House has sent a representative to speak at Netroots … this year, instead, Obama made a statement and played a short video, on the jumbotron screen. On Twitter, it was debated whether the president's remarks were "warmly" received or "politely" received by the crowd of progressives who generally feel let down by the president. I'd have to say warmly, at best. Political staffers buzzed with rumors of Vice President Joe Biden making an appearance, but in the end it didn't materialize.
Van Jones, whom the right wing misinformation machine pressured out of his job at the White House, didn't so much defend his former employer. Instead he made the case that the left's apathy could be the greatest asset of the right in the 2012 election.
"We like this president but we're not in love with him like we used to be," he said in the closing comments of the conference. "We feel that if all we do is support the president or support the Democrats that won't do what we want. Then we look at the Tea Party. And for those of us who are no longer comparing Obama to the almighty but instead to the alternative, that don't look too good either. The last election was a hope election. This one should be a fear election."
He added, "We have to be as sophisticated as the machine we are fighting, we have to be as sophisticated as the system we are trying to change. We have to do two things that are hard, so we have to be twice as committed as we were in 2008. We have to both re-elected the president and re-energize the movement to hold the president accountable to progressive values."
There were great Rhode Island political tales told as well – some good and some bad. In a particularly depressing panel called "When Democrats Aren't Democrats: The Story of Rhode Island," local progressive activists told their stories about how Rhode Island's legislative record undermines its reputation as a liberal bastion.
Kate Brock, of Ocean State Action, talked about how she couldn't win even a slight tax increase this legislative session. Steve Brown of the ACLU, told the now-infamous story of Rhode Island's voter id law. Ray Sullivan, of Marriage Equality, admitted frustration at not being able to pass a same sex marriage law in a state with a supportive governor and a gay Speaker of the House. Paula Hodges, of Planned Parenthood, said she is often on the defensive in heavily Catholic Rhode Island.
It was interesting, I thought, that moderator Pat Crowley of the NEA-RI, didn't speak more about the pension cuts that passed that legislative session, but the local delegation was buzzing after Ted Nesi put otherwise progressive state Rep. from Providence Chris Blazejewski on the spot about his vote to slash retiree benefits. Here's hoping Ted will either post on this, or perhaps share Blazejewski's response in the comments or by email.
But one of the most uplifting moments of the four-day event was the panel titled "Working Rhode Island: How We Built a Progressive Movement in Rhode Island" was about how all facets of the progressive movement – from organized labor to marriage equality – learned to band together to battle back against the pervasive conservative idealogy now ingrained into our political narrative. AFL-CIO President Goerge Nee said former Gov. Don Carcieri disgraceful treatment of the left during his tenure makes him one of the great organizers in Rhode Island history.
For obvious reasons, my highlight of the three-day, three-long-night event was the panel I sat on about revitalizing state and local blogs. We talked about how to make progressive online journalism sustainable – what tends to happen, the other panelists and attendees said, is not unlike the history of RI Future in that a new editor will put some hard work into it for a while but then suffer from a lack of operating capital and need to focus on more profitable endeavors.
Local progressive blogs will become increasingly important as right-wing think tanks (stink tanks, Netrooters tended to call them, teasingly) begin to fund blogs with conservative biases.
The outcome of our panel: we are going to organize a national network of local progressive blogs and websites … hopefully we can learn some stuff from one another, share story ideas and maybe even some resources. The idea is to keep the spirit and purpose of Netroots alive throughout the year – work together to see if we can help each other make the change we should all want to see in the world.