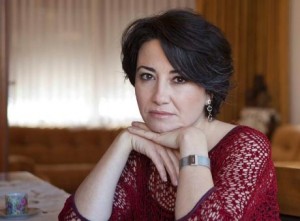 Haneen Zoabi is a Palestinian who was elected to the Israeli Knesset in 2009. Israel often reminds us of the rights it grants to "Arab Israelis," avoiding the word "Palestinian."
In 2010 Ms. Zoabi was on the Turkish ship Mavi Marmara in the international flotilla carrying humanitarian supplies for Gaza. She witnessed the assault on that ship (in international waters) by Israeli commandos. And she was there when those Israeli pirates boarded the ship and killed nine unarmed civilians including an American citizen.
On her return, when Ms. Zoabi rose to tell of this in the Knesset, some members shouted out calling her a "terrorist" or a "traitor." Others supported her right to speak. Ms. Zoabi also received hundreds of threatening letters and phone calls including death threats.
Here's a fascinating view inside the parliament of "the only democracy in the Middle East."