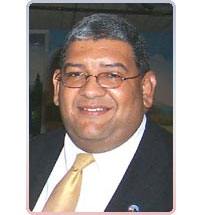 Yesterday, we at RIFUTURE learned the news of the passing of one of our progressive leaders in our state: Providence Ward 9 Councilman Miguel Luna.
The City of Providence sent out a moving tribute of his life's work which includes information about his wake and funeral.
A true giant has fallen in Providence.
And the people of Providence are worse off as a result.
Councilman Miguel C. Luna passed away yesterday at Rhode Island Hospital, surrounded by his family.  He is survived by his three children, Dante, 13, Sofie, 11, and Omar 9; his mother Mireya; his four sisters, Ysa, Belkiss, Josefina and Teresa; his brother Antonio; and 17 nieces and nephews.
Councilman Luna was an extraordinary humanitarian and humble public servant who identified with those most in need and dedicated his life to promoting workers' rights and economic justice.
"I am deeply saddened by the untimely passing of my friend and colleague Miguel Luna," said Mayor Taveras. "Councilman Luna was a great man who made a difference in many people's lives. I join with everyone in my administration and the City of Providence in mourning his passing. Our thoughts and prayers are with his family during this very difficult time. We will honor Councilman Luna's memory by following his example and continuing his lifelong commitment to advocating for justice."
Councilman Luna broke down racial and economic barriers when he earned a seat on the City Council in 2003 by beating an incumbent with nearly two thirds of the vote. He was the second Latino Councilman in Providence's history and the first Dominican American ever elected to the Council.
"The entire Council is deeply saddened by the loss of our colleague and dear friend Councilman Miguel Luna," said Council President Michael Solomon. "Throughout his life, Miguel displayed an unyielding commitment to community service. He was involved with many organizations dedicated to improving the lives of the less fortunate. Councilman Luna's accomplishments – legislative, professional and otherwise – are truly without end, and it was his devotion to such causes that we will most recall and miss. At this time, our thoughts and sincerest condolences are with his family."
Born and raised in the Dominican Republic, he worked minimum wage jobs and advocated for others seeking to improve the quality of their lives. Upon arrival in Rhode Island, he worked in factories and as a laborer during the construction of the Comfort Inn near T.F. Green Airport. He subsequently worked at the International Institute, at the Amos House, at AIDS Care Ocean State and in the full service of the residents of Ward 9 since January, 2003.
A longtime Elmwood resident, Councilman Luna was a constant presence at neighborhood organizations. He was a founding member of the community organization Direct Action for Rights and Equality and was heavily involved with the International Institute, Jobs with Justice and the Olneyville Neighborhood Association. He served on the board and volunteered for numerous other organizations in Providence, including Amos House, the San Miguel School, and the Center for Minority Advancement in the Building Trades.
"He was like a brother to me," said Councilman Luis Aponte. "Miguel's been on the front-lines of every important struggle in our great city and I am saddened beyond belief by his passing. He was a hero in the true sense of the word – unafraid of taking on the powerful and relentless in his commitment to winning justice and fairness for all."
Councilman Luna was a passionate advocate for safe and affordable housing, police accountability and good jobs. Through his involvement with La Comunidad en Acción at St. Michael's Church, he joined with public housing tenants in their fight for improved conditions. He helped to establish the Providence External Review Authority, the city's first civilian review board.
As a Councilman representing the Ninth Ward, he sought to ensure that good, living-wage jobs were the foundation of the City's economy through city tax stabilization polices and the First Source Ordinance. He pursued a progressive legislative agenda on the Council – championing efforts to protect affordable housing and create new jobs for Providence residents, and to make government more accessible to all residents, especially those who speak other languages. He was a strong proponent of renewable energy, encouraging homeowners to utilize solar panels and other energy efficient methods in their homes.
As Chairman of the Rhode Island Workers' Rights Board, Councilman Luna stood up for janitors at Providence College, hotel workers at the Westin and the Biltmore and home-based child care providers across the state. Councilman Luna did not limit his fight for justice to the City of Providence. He advocated fiercely for fair international trade policies and fought for peace in every corner of the world. He advocated for the rights of farm workers in Ohio, tenants in San Francisco and community activists fighting for neighborhood investment in Los Angeles. He was a member of the U.S. Delegation of Election Observers in Venezuela during the 2006 election.
Councilman Luna was a voice for the voiceless. Wherever there was injustice, he was there. Our City mourns his passing.
A wake for Providence City Councilman Miguel C. Luna will be held on Sunday, August 21, from 6PM to 9PM at Bell Funeral Home, 571 Broad Street, Providence, RI, 02907.Councilman Luna's funeral service will be held on Monday, August 22 at 10AM at Saint Michael the Archangel Church, 239 Oxford Street, Providence, RI, 02905. Interment will be held following the funeral mass at North Burial Ground on Branch Avenue in Providence. There will be a reception immediately following, at the Roger Williams Park Casino.
The public is invited to attend all services.
The family requests donations in lieu of flowers to:
Luna Children Educational Trust
167 Roger Williams Avenue
Providence, RI 02907