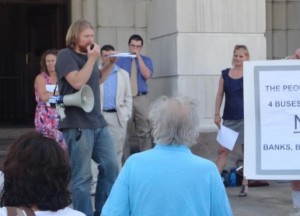 Abel Collins feels he hasn't heard enough about financial reform from either U.S. Rep. James Langevin (D-R.I. 2nd District) or his prospective Republican challengers in November's election.
The program manager for the Sierra Club's Rhode Island chapter is unhappy enough about the situation to jump into the race himself as an independent candidate. The 2000 Brown University graduate and lifelong South Kingstown resident will officially announce his candidacy Wednesday at 3 p.m. on the south steps of the Statehouse. (In case of rain, another location will be announced. The campaign's website is electabel2012.com.)
"It's not about challenging Langevin," Collins says. "It's about challenging the two-party structure."
Collins hopes to bring the issues of Wall Street malfeasance and campaign finance reform to the fore, which hasn't happened yet in either of Rhode Island's congressional campaigns.
"Both parties' hands-off approach caused it, and the legislation they've enacted has done nothing," he says. "There have been no prosecutions, and the total lack of responsiveness made me want to get involved."
While admitting "I never stayed overnight," Collins assisted with last year's Occupy Providence action.
"I was one of the moderate voices," he says.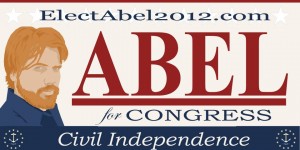 Collins seeks greater enforcement of existing financial legislation and RICO (Racketeer Influenced and Corrupt Organizations) prosecutions for insider trading, in addition to the restoration of the Glass-Steagall Act limiting interstate banking and the promotion of community and state banks. His platform also includes promoting public financing of campaigns, green initiatives and fair trade policies.
A graduate of South Kingstown High School before majoring in political science at Brown, Collins lives in the Matunuck area with his family and credits growing up around a beach with farmland nearby for his lifelong interest in environmental issues. With the Sierra Club, he has lobbied for public transportation improvements and the encouragement of walking and bicycling in local communities.
"I tried a lot of different jobs after college," says Collins, who worked as a letter carrier, in construction and as a poker dealer before turning to environmental activism six years ago. "With the position at the Sierra Club, I really found my home."
He has also served as a field manager for Clean Water Action, and membership and outreach coordinator at Apeiron Institute.
Collins says his campaign's biggest goal is to bring a voice from outside the two major parties into the political debate.
"I want to demonstrate that it's possible to campaign as an independent using the community tools available now," he says.
Activist Abel Collins Challenges Langevin

,