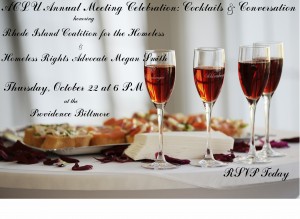 The ACLU of Rhode Island works tirelessly to defend fundamental rights here in the Ocean State. Now, it's time to celebrate that work. Join us on Thursday, October 22, at the Providence Biltmore to take part in our Annual Meeting Celebration and raise a glass to another year of protecting civil liberties. This year, the ACLU of Rhode Island is honoring the Rhode Island Coalition for the Homeless and homeless rights advocate Megan Smith as the 2015 "Raymond J. Pettine Civil Libertarian of the Year" award recipients.
The ACLU of RI is honoring the Coalition and Ms. Smith  for their unyielding advocacy for the civil rights and liberties of individuals experience homelessness, and for the invaluable support and resources they provide. The RI Coalition for the Homeless works to promote and preserve the dignity and quality of life for men, women, and children by pursuing comprehensive and cooperative solutions to the problems of housing and homelessness. Ms. Smith is an outreach worker and case manager with PATH, a program of the House of Hope CDC that works primarily with individuals experiencing street homelessness. Both are also tireless advocates for policies and reforms that affirm the rights of the homeless and protect individuals experiencing homelessness from discrimination.
ACLU supporters will mix, mingle, and enjoy hors d'oeuvres and cocktails while they celebrate the civil liberties successes of the past year and recognize the hard work of these two honorees dedicated to protecting the rights of the homeless.
ACLU of RI volunteer attorneys Sonja Deyoe, Carly Iafrate, and Neal McNamara will also provide updates on their ongoing and important court cases.
Celebrate your rights and freedoms, honor the RI Coalition for the Homeless and Ms. Smith, and support the ACLU of Rhode Island by purchasing your ticket today!
Tickets for the evening are $65 and are available for purchase online or by calling the ACLU office (401-831-7171). RSVP by October 14.
ACLU of Rhode Island's Annual Meeting Celebration
Thursday, October 22 at 6 P.M.
(Registration begins at 5:30 P.M.)
Providence Biltmore
11 Dorrance St., Providence, RI 02903
Complimentary valet parking provided to all guests.