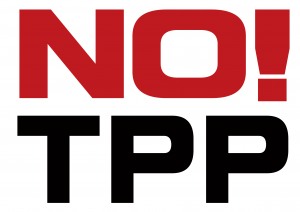 This week, a bill to fast track the Trans-Pacific Partnership (TPP) was introduced in Congress- but Congress members are not allowed to have a copy of it.  This secret trade deal is being negotiated with over 600 corporations- (how democratic!) And if President Obama has his way, if he is able to negotiate the terms of this agreement (without input from Congress) it could easily give corporations the power to overturn laws which threaten their profits. We would see our food safety regulations undermined, and certainly an increase in fracking (and, of course, the many ailments which accompany such activity).
Goodbye, clean water and clean air!
Hello, GMO's and chemical leaks!
Luckily, many groups are urgently working to stop the TPP, by making Congress aware of the facts- through organizing voices of constituents like you.  
January 22 is now "Derail Fast Track" lobby day – and your voice has never been more needed!  
Take action with these three simple steps:
1) Download and print the cover letter and fact sheet here.
2) Look up your Representative's local district office. If you're not sure who your Rep is, find out here.

3) On Wednesday, January 22 (or another day that works for you), deliver these materials to their office. (It's best to call ahead to make sure someone is there to meet you).
Action Alert: TPP

,