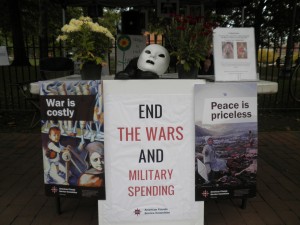 Join in celebrating AFSC- South East New England's 10th anniversary on Friday, April 19.  Buffet dinner at 6pm followed by performances and remembrances at 7:30pm.
Originally scheduled for March 8 but postponed by snow, we are fortunate to have many of the Woman's Day performers still able to join us.  They include the Raging Grannies (read an excellent story about them here), Nada Samih (story about Palestine), Judy Perry (music), Ariel Wilburn (poem), Laura Brown-Lavoie (poem), Rachel Miller (music during dinner), and Cathy Clasper-Torch.
The evening will include a participatory look back at the past decade.  Tickets are $15 for dinner ($10 low income) and $20-50 for the performance.  This is an important fundraiser for AFSC-SENE so we hope you will be generous but it also is a celebration of community – so come and pay what you can.  The event will be at the Providence Friends Meeting House, 99 Morris Ave (on the corner with Olney St).  To RSVP call 508-399-6699 and leave a message, or email sene@afsc.org.