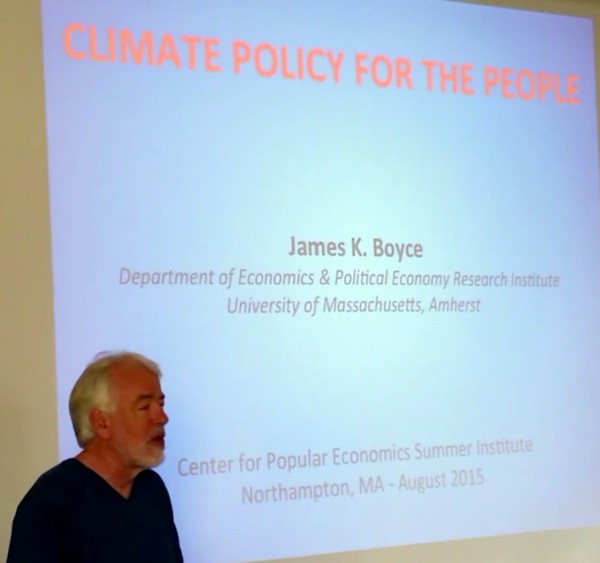 The economic benefits from doing away with the burning of fossil fuels (including fracked gas) are tremendous in terms of "Air Quality Co-Benefits," said James K. Boyce  at the closing lecture at the Center for Popular Economics 2015 Summer Institute: Confronting Capitalism & Climate Crisis. "Add up those benefits" says Boyce, and you'll find that the public health benefits are often twice the "social cost of carbon" which is the federal government's measure of the benefits of reducing CO2 emissions.
Boyce is is a professor of economics at UMass Amherst researching development economics and environmental economics, with particular interests in the impacts of inequalities of wealth and power and the dynamics of conflict. His talk provided yet more reasons to oppose the construction of Clear River Energy Center, a fracked gas energy plant in Burrillville, Rhode Island.
The "vested interests of those who claim to own fossil fuels in the ground" says Boyce, "prevent good climate policy" from being enacted in the United States. It is not possible to design a strategy that can both prevent catastrophic climate change and appease the fossil fuel industry. (As Noel Healy said at a previous CPE talk, "There is no fixable flaw in the fossil fuel industry business plan. We are asking a company to go out of business.")
But it is possible, stresses Boyce, "to design climate policies that do not impose costs but are beneficial in terms of public health and incomes." These strategies, if instituted by the United States, would not put us at an economic disadvantage, but would have immediate economic benefits.
20,000 people die every year as a result of air pollution in the form of particulate matter, sulfur dioxide, nitrogen oxides and benzene. The health impacts include asthma, impeded brain development, stroke and cardio-vascular disease, among many more. Treating these diseases costs money. Add to that the value of a statistical life, that grubby little number insurance companies have determined we are each worth, (about $7 million,) and therefore the costs to society of preventible death, diseases and conditions due to fossil fuel emissions is vast.
Another aspect of Boyce's talk concerned the placement of fossil fuel burning plants. It is not true that carbon is carbon and that it doesn't matter where in the world they are eliminated. "Co-pollutants are localized and specific communities are influenced by these pollutants."
Again, this can be applied to Burrillville and the proposed fracked gas plant. Before the new fracked gas plant was proposed, Burrillville was facing a huge expansion of the natural gas pipeline. Back in February I listened to Kathy Martley from BASE (Burrillville Against Spectra Expansion) say, "Burrillville is Rhode Island's sacrifice zone."
Martley is also concerned about the chemicals the pumping station is using. Fracked gas is dirtier, she says, and requires an additional 25 chemical additives to make it run smoothly through the pipeline. Many of these chemicals are industrial secrets, meaning there is no information available to the public as to what they are. In the event of a leak, Martley and her family and neighbors may be exposed to an unknown toxic brew. These concerns are no doubt exasperated with the addition of a new fracked gas burning plant.
This is no idle concern of a local resident crying NIMBY. Ted Nesi reports that Senator Sheldon Whitehouse is undecided on the matter. Hisspokesman Seth Larson said, "The senator has significant concerns about methane leaks during natural gas production and elsewhere in the supply chain and has been urging EPA to pin down the size of the problem and take action to address it."
This jibes with a report from the Union of Concerned Scientists (UCS) that conludes that while "the global warming emissions from [fracked gas] combustion are much lower than those from coal or oil… Emissions from smokestacks and tailpipes… do not tell the full story."
"The drilling and extraction of natural gas from wells and its transportation in pipelines," says the UCS, "results in the leakage of methane, a far more potent global warming gas than CO2." And though fracked gas burning plants yield lower emissions than coal or oil, "Some areas where drilling occurs have experienced increases in concentrations of hazardous air pollutants and two of the six "criteria pollutants" — particulate matter and ozone plus its precursors — regulated by the EPA because of their harmful effects on health and the environment."
Rhode Island has to decide if it is moral, given that there are clean energy solution available that do not rely on fossil fuels, to outsource our pollution and attendant health risks to those distant fields where desperate communities allow fracking. We have to decide if it is moral to make Burrillville, RI into a sacrifice zone, where, long after natural gas has gone away and the Earth endures a 4 or 5 degree temperature increase due to our continued reliance on apocalyptic technology, we will be leaving a toxic Superfund site to the next generation.
In the video below you can watch nearly the entirety of Boyce's talk, where besides speaking about the health risks of fossil fuels and the economic advantages of avoiding them, he also outlines his "cap and dividend" approach to carbon reduction.
Air quality benefits outweigh fracked gas facility

,