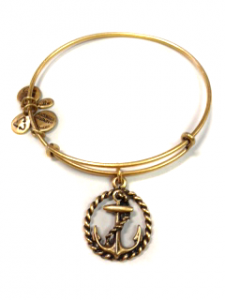 April 1, 2015 — Governor Gina Raimondo announced that Cranston-based jewelry company Alex and Ani has purchased the naming rights to the state.
Starting next week, the new name will be "The State of Alex and Ani and Providence Plantations." The Department of Motor Vehicles will be issuing new license plates with a choice of four collectible bangles, including Quahog-Contentness, Coffee-Milk Celebration, and Anchor of Hope.
"I don't think of this as a bailout," said Raimondo. "It's an investment opportunity, with a little bit of bling!"
Although the exact terms of the deal remain classified as a "business secret," Raimondo assured the public, "This is a very sweet deal. They've purchased all our debt in exchange for the right to collect tolls, raise taxes, teach color and chakra theory in schools, and require people to assemble jewelry in exchange for their unemployment benefits."
In an early morning ceremony at the State House, House Speaker Nicholas Matiello, and Senate President Teresa Paiva Weed were each presented with empty charm necklaces with plenty of room for contributions from lobbyists and special interests. "We are looking forward to jerking the governor's chain," said Mattiello.
"Historically, Rhode Island was the costume jewelry capital of the world," explained Brown University Professor Dr. I.M. Fulaship. "Now the costume jewelry has retaken the capital and the entire state."
Alex and Ani buys naming rights to state formerly known as Rhode Island

,