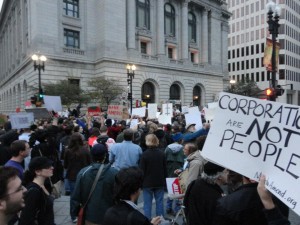 In 2012, the General Assembly unanimously passed a resolution calling on leaders in  Washington to reverse the effects of the Citizens United vs. FEC Supreme Court decision, which enshrined corporations as people and their spending of money in elections as protected free speech. Rhode Island is one of twelve states to take such action alongside at least another dozen who are contemplating similar non-binding legislative action. Meanwhile, hundreds of municipalities around the country have passed resolutions likewise calling for the reversal of Citizens United, including Providence and other RI municipalities. Rhode Island also enjoys leadership on this important issue at the federal level from Senator Sheldon Whitehouse, who has spearheaded the initiative to amend the U.S. Constitution. We should be proud of the leadership that has been shown by our political leaders on this issue.
However if you're like me, you don't want to hold your breath waiting for things to happen in Washington, D.C. That's why I got together with some friends and started a Rhode Island affiliate of the Move To Amend coalition. That's also why we drafted legislation that would allow Rhode Island to be the first state to amend its constitution to abolish corporate personhood. If passed, the bill would put the question on next year's ballot for the voters to decide. We can be proud that we are the first state in the nation to be considering this move.
The good news is that we have started a petition to support amending the RI Constitution, and in the less than three days it has been up, it already has more than 300 signatures. You can sign it here: http://movetoamend.nationbuilder.com/amend_ri
The less good but still exciting news is that the bill is being heard this Thursday, May 9th in the House Judiciary committee, so there is only a short time to get people on this petition and to the Statehouse for the hearing. I'd be grateful if you can share the petition through social media and email with all your friends. Please also consider coming to the hearing. I've made a Facebook event page that allows you to RSVP and spread the word to your friends.
This hearing on Thursday and the subsequent fate of this legislation could prove to be historic steps in the fight to reclaim our democracy from the grip of corporate power. If the bill passes and Rhode Islanders determine that a corporation is not a person as polling suggests they would, there are a lot of potential outcomes and all good for the broader goal of amending the U.S. Constitution.