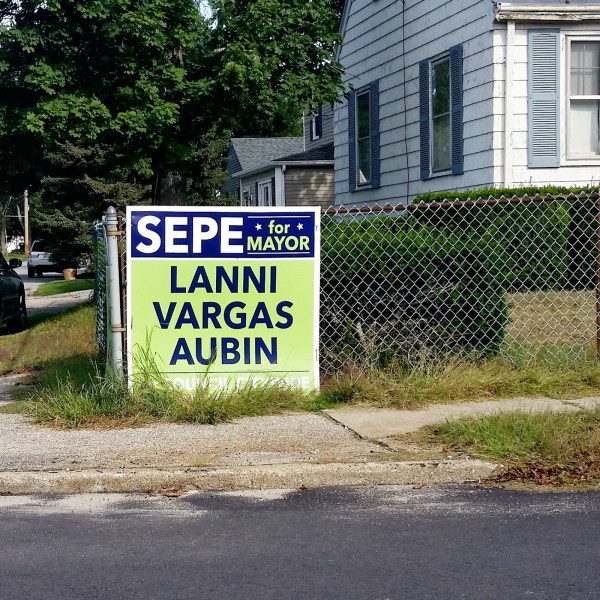 "The language Donald Trump has used to describe Hispanic Americans, Muslims, women and others is both hateful and dangerous. It is a lot more than 'putting his foot in his mouth,' and it must be condemned," said Democratic candidate for Cranston City Council Kate Aubin. "Incumbent City Councilor Michael Farina made the decision to switch parties from Democrat to Republican in March, when it was already clear that the national GOP would likely be led by Mr. Trump. His failure to denounce the hate ­filled language and ideology coming from the top of his new party shows a lack of judgment, courage, and leadership."
Trump for President signs can be found around Cranston, says Aubin, displayed next to signs for the three Republican City Wide City Council candidates. Their names also appear on signs with local GOP standard bearer, Mayor Allan Fung, who told WPRI in August that he supported "the Republican nominee" and said of Trump's hate speech that the presidential nominee "keeps putting his foot in his mouth." By aligning themselves with the mayor and not publicly disavowing Trump, Michael Farina, Ken Hopkins, and Louis Petrucci are sending a signal that Trump's message of racism and division is okay by them.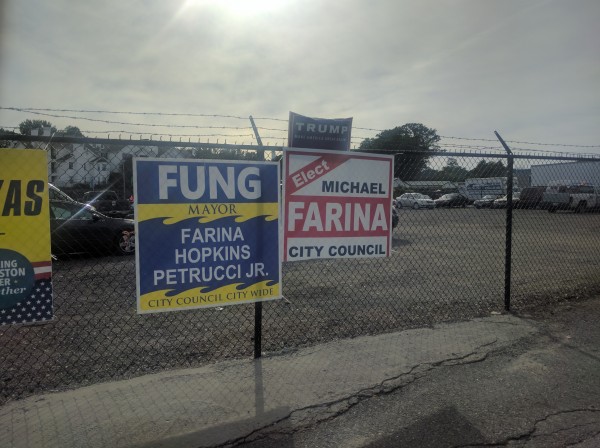 Farina, reached by email, did not reply directly to Aubin's call for him to disavow Trump. "I am running for city council not President," said Farina, "and this is a lame attempt for her to garner attention in a race against 2 incumbents and other more popular candidates herself. She should run on the issues and how she plans on making Cranston better. I stand by my record of positive improvements in the city of Cranston."
This isn't enough for Aubin. "When nomination papers were filed in June, Trump was already the presumptive nominee of the Republican party. No one forced Michael Farina to switch parties and become a Republican, and his continued unwillingness to disavow Trump's racism and bigotry — even when given a direct opportunity — demonstrates a severe lack of judgment, courage, and leadership.
"So this absolutely matters to Cranston and the people of our city deserve to know where Mr. Farina stands on Donald Trump. I believe that Trump's near constant hateful and incendiary comments are dangerous for America and for Cranston. I have spoken clearly about the issues I am passionate about for our city — improving our neighborhoods by making them more walkable and affordable, protecting our environment, improving our local economy, reducing wasteful spending, and making sure Cranston has top performing schools."
At the time Farina switched party affiliation from Democrat to Republican he said he believed there had been "efforts to inhibit or obstruct him from taking positions on certain issue contrary to fellow Democratic leaders."
"As a Democrat I have felt pressure," said Farina, "to conform to party positions … more about political maneuvering and personal ego than the constituents."
Aubin says that as a longtime advocate for social justice, she believes in a Cranston that is strong, diverse, and equitable. The America that Donald Trump is selling, based on xenophobia and intolerance, has no place in Cranston or anywhere in our country.